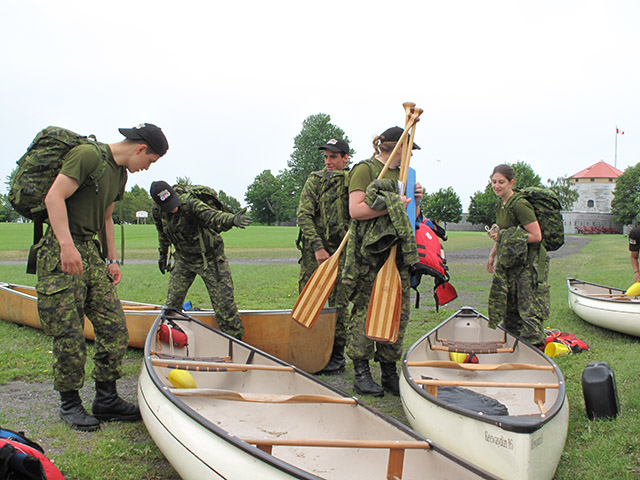 Members of RMC's Aboriginal Leadership Orientation Year (ALOY) program begin unpacking after a military exercise which saw them paddle a great distance in their canoes as part of their year end final test.
By Lieutenant Navy Haley Mooney
A week's worth of rain could not dampen the spirits of 18-year-old Officer Cadet Tia Chartrand and 13 other cadet paddlers as they hung up their clothes to dry at their Kingston Mills campsite at the end of day six of an eight-day, 102 km canoe trip.
In fact, Chartrand, an energetic young woman from Comox, BC, was glowing with enthusiasm as she described the challenges of the final exercise in the Aboriginal Leadership Opportunity Year also known as ALOY.
"Our mission was to complete the Rideau Canal in eight days," said Chartrand. "It was guided by student leadership and a new leader was assigned each day," she said.
"At first it was hard, but as we gained momentum it was different- we learned teamwork and leadership skills," Chartrand added.
The trip wasn't all hard work though, "This trip was about getting together and having a bit of 'kid fun'," explained Chartrand. "We had a chance to go diving, and there was a day where a swan just followed the Warrant Officer, swimming behind him," Chartrand explained with a laugh.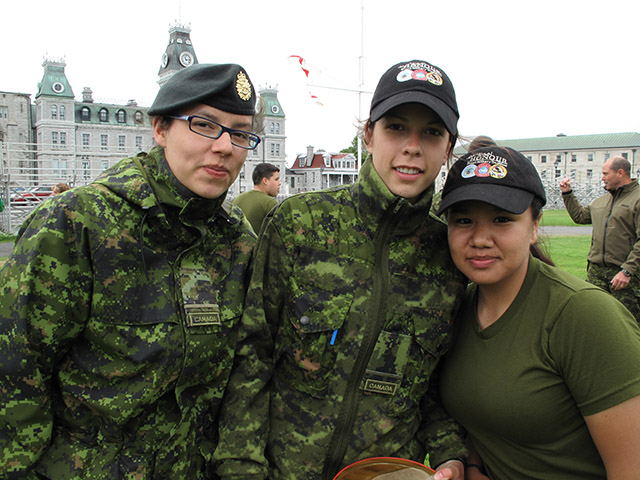 OCdt's Couillonneur, Kablutsiak, and Anishinabie pose together in celebration after completing their year end final test at RMC in June 2013.
The ALOY program is a year-long military university program offered to Aboriginal youths aged 17 to 26.
"They take seven university credit courses, there's a military and a physical education pillar- they have physical training daily," explained the ALOY Squadron Commander, Warrant Officer Chuck Côté.
"There's also a cultural component to the program; once a week the Cadets learn about aboriginal drumming and sweat lodge etiquette," Côté explained.
"There's a big cross section in the cadets' culture. Some don't know anything about their background and some have been completely immersed for their whole lives," Côté also said.
The canoe trip through the Rideau Canal took place a week before the ALOY cadets graduated from the program.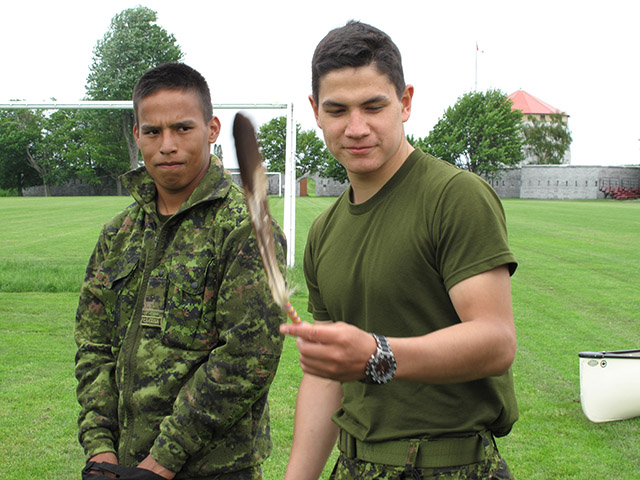 OCdt's Chubb and Cook hold a ceremonial feather in early June 2013 after finishing their year end final test at RMC.
"It's the final exercise, a culmination of the military pillar, physical education pillar, well, all the pillars actually," Côté also explained. "It's a long course, 14 of the cadets graduated and morale has been good. During the year they've gelled, but this exercise solidified it," he added.
The cadets were well prepared for what lay ahead. "They had navigational training, and there was a navigation exercise prior to this trip," Côté. "They've also had some mentoring but they've done very well on their own. They've had some rough weather, but they've charged through".
After the trip, cadets attended the ALOY graduation ceremonies June 21, 2013 and went their separate ways, some to join the military either as an Officer or Non-Commissioned Member, and others returned home to pursue other paths. The ALOY experience, however, will stay with them for life.
"I would tell anyone with an aboriginal background to take this course. You come out of it with leadership training, confidence and a taste of military life," said Chartrand. "I would love to be a leader in ALOY one day. There's a lot you can take from it and a lot you can put in."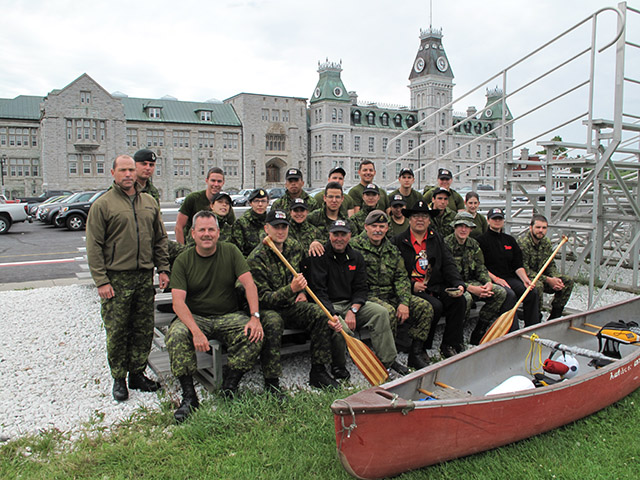 RMC's ALOY squadron after finishing their grueling year end final test which sees them paddle many kilometres in ther canoes in June of every year.