CF Mil Pers Instruction 01/20 – Hateful Conduct
CANFORGEN
CF Mil Pers Instruction on Hateful Conduct
Application: This Canadian Forces Military Personnel Instruction (CF Mil Pers Instr) applies to officers and non-commissioned members (NCMs) of the Canadian Armed Forces (CAF) of the Regular Force at all times and the Reserve Force when subject to the Code of Service Discipline as per section 60 of the National Defence Act
Escalation of Hateful Conduct
Incidents / Potential Service Offence

Acting on beliefs and / or unconscious bias
Making a statement
Cultural Insensitivity
Microaggression
Participation in an organization
Promotion / Display (including social media)
Sharing information
Membership in an organization
Donating to or raising funds for an organization
Recruitment (expanding membership)

Criminal / Disciplinary

Harassment
Uttering threat / intimidation
Violence
Hate Crime
Terrorism
Targeted Person Groups

Groups based on CHRA "prohibited grounds of discrimination"
Gender identity or expression
Sex or sexual orientation
Marital or family status
National or ethnic origin
Race / colour
Religion
Genetic characteristics
Disability
Expected Professional Military Conduct
Professional conduct
Dignity and respect for all
Good order and discipline
Accountability
Safe and Supportive Environment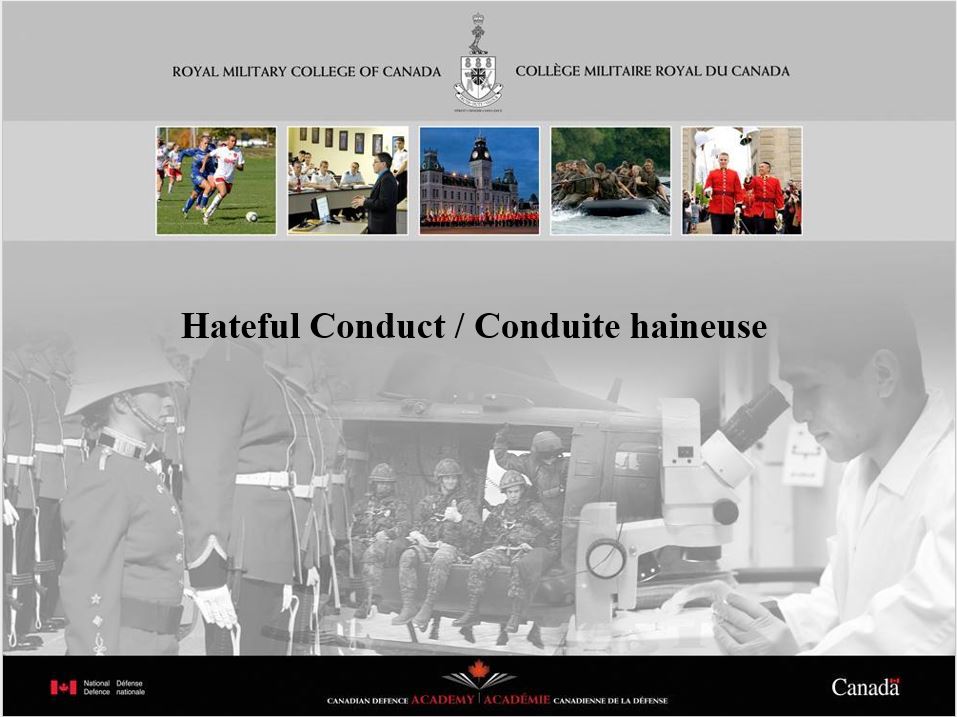 Download the Hateful Conduct Orientation 2020 pdf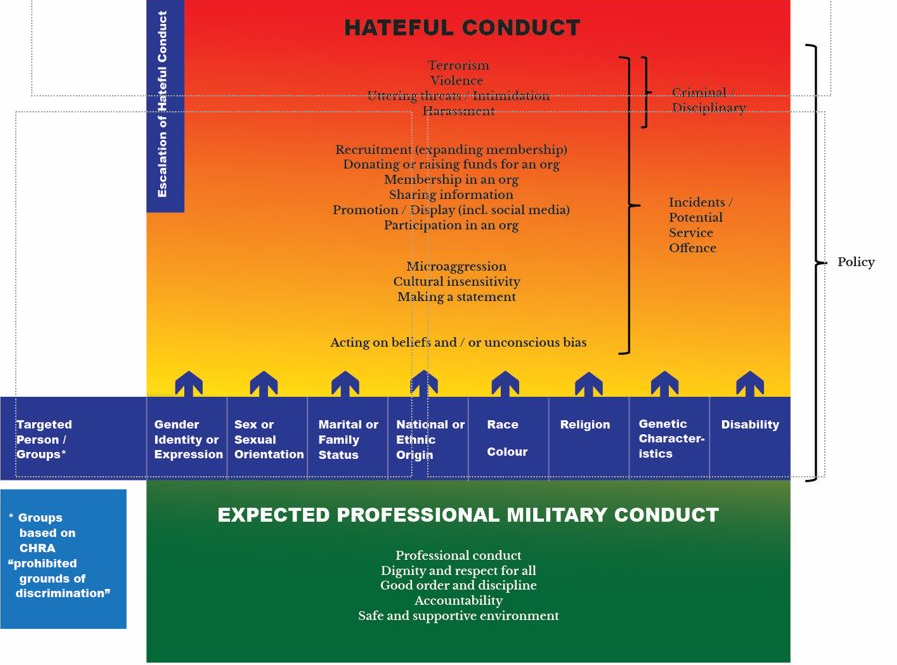 Hate incident 

Any allegation of hateful conduct that has been reported to, or documented by the chain of command.

Hateful conduct 

Act or conduct, including the display or communication of words, symbols or images, by a CAF member, that they knew or ought reasonably to have known would constitute, encourage, justify or promote violence or hatred against a person or persons of an identifiable group, based on their national or ethnic origin, race, colour, religion, age, sex, sexual orientation, gender identity or expression, marital status, family status, genetic characteristics or disability. (Defence Terminology Bank record number 695993)

Racism 

Prejudice, discrimination, or antagonism directed against a person or people on the basis of their membership in a particular racial or ethnic group, typically one that is a minority or marginalized.
The CAF is committed to:
the ethical principle of respect for human dignity in accordance with the Canadian  Military ethos as expressed in Duty with Honour: Profession of Arms in Canada; ​
respect for the principle of equality of all people in their relationships with each other,  with members of the public, and with all those they come in contact with as set out in  the DND & CF Code of Values and Ethics;  ​
promoting diversity and inclusion in the CAF; ​
supporting all members in an effort to prevent and minimize occurrences of hateful conduct; ​
ensuring hate incidents are addressed as soon as possible through the use of the most appropriate means; and  ​
establishing corporate monitoring and tracking of incidents for the purposes of data and  analytics.   ​
NOTE: This list is not exhaustive.  ​
The chain of command is directed to take a proactive response to concerns of hateful conduct and does not need a written complaint to investigate any concerns. The framework includes three levels of institutional intervention which are as follows:    ​
Primary Intervention - Prevent

Providing relevant information through continued training and education to enable CAF members to recognize, avoid and prevent hateful conduct;

Secondary Intervention – Detect

Identifying vulnerable and at-risk CAF members who are, or may  be leaning towards a hateful ideology and, or are exhibiting troubling conduct which may indicate an escalation of conduct as identified in the hateful conduct spectrum (See Annex A); and  providing appropriate support, professional counselling, and remedial  measures in order to promote reintegration in the CAF where applicable; and

Tertiary Intervention - Respond

Identifying CAF members exhibiting alarming conduct which is or will imminently be hateful conduct; and
Ensuring that appropriate actions are taken, including referrals to security services, law enforcement, investigation, administrative action, professional counselling and social reintegration efforts.
A fundamental goal at all stages of intervention is to re-establish a system of values that reflects the CAF and the operating principles set out in this instruction. 
Examples of Hateful Conduct
 Engaging in hate propaganda offences as set out in the Criminal Code of Canada​​
Accessing information that promotes hate on the Defence IT infrastructure, except as  required for CAF work-related purposes; ​
​Being a member or otherwise participating in the activities of any organization or  group which is known, or ought to be known by the CAF member, to promote or encourage violence, or hatred against a person or any identifiable group, based on a prohibited ground of discrimination, ​
​Making statements, sharing or endorsing information verbally, in writing, or online; that  promotes violence or hatred against a person or any identifiable group based on a  prohibited ground of discrimination;   ​
​Acts of violence or intimidation stemming from hate against a person or any identifiable  group based on a prohibited ground of discrimination; and ​
​Displaying tattoos that communicate, constitute, encourage, justify or promote  violence or hatred against a person or any identifiable group based on a prohibited ground of discrimination.  
According to CANFORGEN 121/19, Direction and Guidance for Tattoos, CAF members are prohibited to have or acquire a tattoo that they know or ought to know:  ​
is connected to criminal activities;  ​
​promotes and/or expresses, on the basis of a prohibited ground of discrimination as defined in the Canadian Human Rights Act (CHRA), hatred, violence, discrimination or harassment; or ​
​promotes and/or expresses racism, sexism, misogyny, xenophobia, homophobia, ableism, or sexually explicit material.  
To ensure that hate incidents are addressed in a timely manner, the chain of command must be made aware of hate incidents involving a CAF member, both Regular or Reserve. In accordance with QR&O article 19.56, Report of Arrest by Civil Authority, QR&O subparagraph 4.02(1)e, General Responsibilities of Officers and QR&O paragraph 5.01e, General Responsibilities of Non-Commissioned Members; every CAF member is required to report to the proper authority as applicable:​
​a hate incident of another CAF member whether performed individually or in association with a hate group; or ​
their own arrests by a civil authority.  ​
​The CAF member can comply with this requirement by reporting to:    ​
the CAF member's CO through the chain of command;  ​
the military police; or ​
Assistant Deputy Minister (Review Services) (ADM(RS)), Director Special Examinations and Inquiries.  ​
To monitor and assess the effectiveness of initiatives, training and communications products to prevent and address hateful conduct in the CAF, hate incidents are to be reported and tracked. Subsequent tracking after the submission of the SIRs must use the prescribed tracking tool. All hate incidents must be tracked irrespective of whether a SIR has been submitted. Once a hate incident has been concluded or resolved, the CO must ensure all records pertaining to the member's conduct, including the final decision, is distributed to the office responsible for the maintenance of that member's personnel record file