What is Health Promotion?
The process of enabling people to increase control over, and to improve their health.
The primary goal of HP in the CAF
Is to help CAF members become healthy​
to fulfill their Operational Mandate AND ​
to Maintain a high Quality of Life!
Health & Lifestyle Information Survey
All programs are now Guardian Coded
All programs are FREE of Charge to the entire CAF community!

Addiction Free Living
MITE CODE: Alcohol, Other Drugs, Gambling and Gaming (AODGG)​
Butt Out (BO)

Social Wellness
MITE CODE: Mental Fitness and Suicide Awareness (MFSA) ​
Stress: Take Charge! (STC)​
Managing Angry Moments (MAM)​
Inter-Comm (I/C)​
Respect in the CAF (RitCAF)​

Nutritional Wellness
Weight Wellness Lifestyle Program (WWLP)​
Top Fuel for Top Performance (TFTP) 
Active Living and Injury
Injury Reduction Strategies for Sports & Physical Activity (IRS)
Active Living and Injury Prevention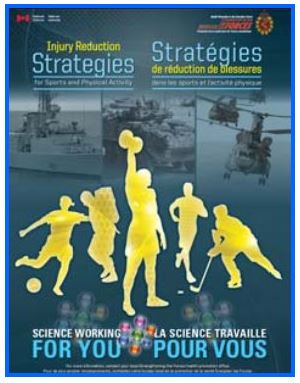 To enhance the operational readiness of CAF personnel by:​ 
encouraging members to  maintain a healthy level of ​ activity ​
providing guidelines to prevent ​overuse or repetitive strain, sports or exercise related ​injuries. ​
Injury Reduction Strategies for Sports & Physical Activity 
Addiction Awareness & Prevention
6 Subjects 
Alcohol  ​
Drugs ​
Tobacco​
Gambling​
Gaming​
Cannabis Use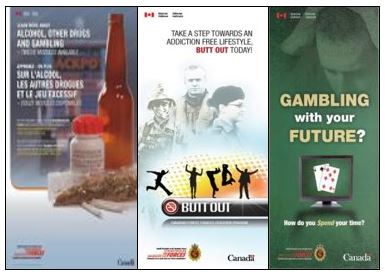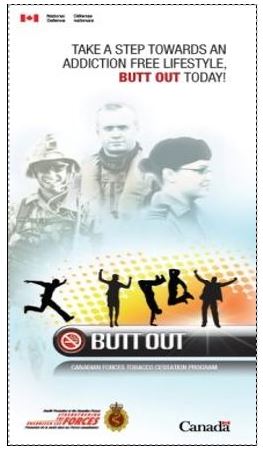 Take a step towards an addiction-free lifestyle. Butt Out today!
Quitting Tobacco​
Butt Out Group ​
OR ​
Self Managed Program​
45% of CAF members started smoking on BMQ
Alcohol, Other Drugs, Gambling & Gaming -  Supervisor Training (MITE Coded)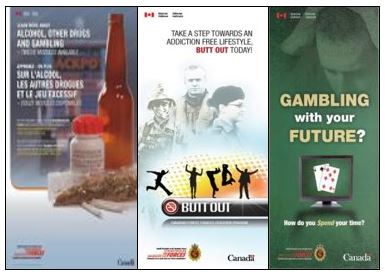 Supervisors will learn to recognize the signs and symptoms of addiction and through practice, apply the DND policies around alcohol, other drugs, gambling and gaming. Supervisors will be given an opportunity to develop and practice strategies to promote an addiction-free work environment. 
Healthy Eating, Nutrition for Physical Activity and Nutrition for Weight Loss​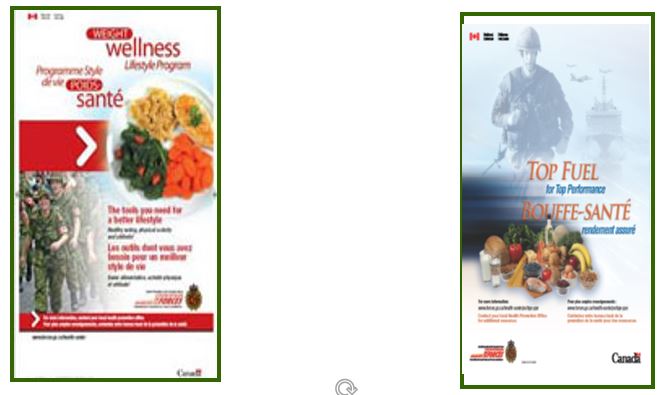 Wellness - Top Fuel for Top Performance
Top Fuel for Top Performance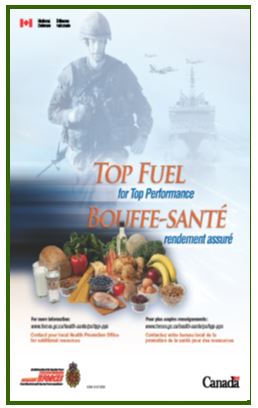 TFTP offers participants:
an opportunity to determine their personal energy requirement​
learn new tips on how to maximize their overall physical performance​
This interactive workshop includes education on:​
Everyday Eating

Fueling for Training and Recovery

Nutrient Timing and Hydration Before, During & After Physical Activity

Body Composition and Weight Issues

Sports Supplements.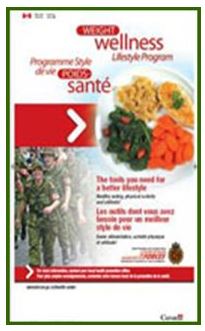 Safe, effective and permanent weight loss ​
Self-directed​
Emphasis on nutrition and PA as a lifestyle change and not Dieting​
6 weekly group sessions​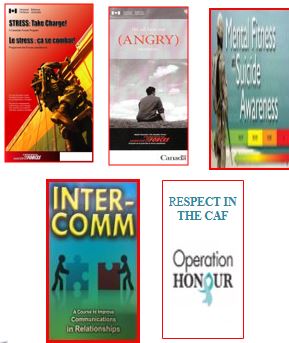 Stress Management​
Anger Management​
Mental Fitness & Suicide Awareness​
Inter-Comm​
Respect in the CAF Workshop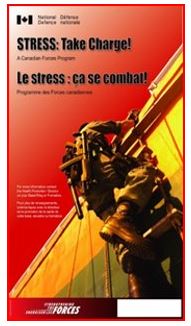 This interactive program offers an effective, skills-based approach to managing stress.
Through self-awareness, behaviour change and skill building, participants will examine stress within their lives and learn about the stress response. ​
Various relaxation/stress management techniques​ and strategies will be explored and practised.
Managing Angry Moments (MAM)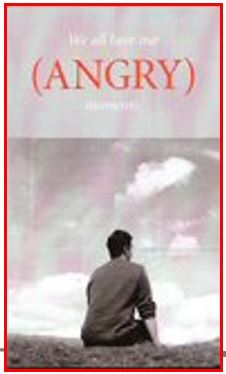 MAM is an interactive program designed to help increase personal performance by identifying successful coping strategies in anger generating situations and provide opportunities to learn and practice new skills. ​
Discussions focus on:​
 understanding anger; identifying​
personal triggers; managing conflict with others​
identifying and practising strategies that work for you​
learning how to manage your response for the long-term.
Mental Fitness and Suicide Awareness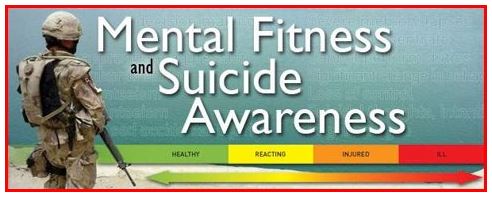 Course coded​
Prepare leadership to promote Mental Fitness​
Focus on lessening the incidence of mental health injuries within military community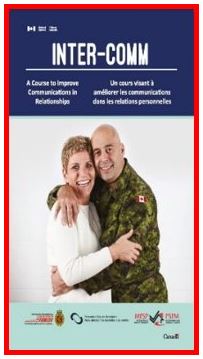 Would you like to get better customer service?
Do you want to get your message across briefly and effectively? Are you tired of not being heard?
Would you like to have a meaningful conversation with your teenager?
If you answered yes to any of the above questions, then Inter-Comm is for you.
Inter-Comm is for anyone who wants to improve their communication skills. The course looks at​ barriers to communication and provides practical ​proven methods to overcome these barriers​ to create a respectful environment.
Respect in the CAF Workshop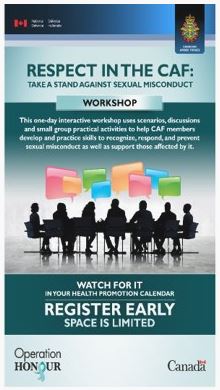 The "Respect in the CAF" workshop is a curriculum for use in the Canadian Armed Forces. The workshop is intended to promote respect in the CAF through awareness and understanding and to empower CAF members to take a stand against harmful and inappropriate sexual behaviour (HISB). This workshop is designed to foster a sustained change in attitudes and behaviours in order to build a respectful climate and culture within the Canadian Armed Forces. (This workshop is HRMS coded.)
Manager HP - Christa Snow​
HP Specialist - Sharon Ash​
HP Specialist - Jeremy Bauman-Fortin​
HP Specialist - Jackie LeSarge​
HP Specialist - Rachel Askett​
HP Administrative Assistant - Lori Popkie x 3992​

@pspkingston #cfbhealthpro
Your Strengthening the Forces Unit Rep