The obligation exists for all government departments to have a management system for their Information Resources (Records) of Business Value (IRBV) and Information Resources (Records) of Enduring Value (IREV) to be stored and maintained, regardless of their medium (hard or soft copy). The Retention and Disposition of these is also part of the exercise.​
All employees are responsible for applying information management principles, standards, and practices as expressed in Treasury Board and departmental frameworks, policies, directives, and guidelines in the performance of their duties, and for documenting their activities and decisions.
 Information Management is the discipline that directs and supports effective and efficient management of information as a strategic resource of value to the DND/CF in order to ensure that the value of that information is identified and fully exploited.

- DND/CF definition

The information we generate or collect in the conduct of activities and tasks belong to the Government of Canada and not to the individual or organization
DND employees and CF members are responsible for:
Creating, capturing, profiling and filing Corporate Records in hardcopy or electronic form that document decisions, policies, positions, significant actions taken, processes, particular incidents, etc., against an approved file plan;
Managing emails and their attachments as either Corporate or Transitory Records;
Identifying private or personal information and keeping it separate from DND/CF Records;
Securing and protecting records under their stewardship;
Ensuring that documents containing sensitive information are indicated as either protected or classified as required;
Destroying Transitory and Personal Records that are no longer required; and
Ensure records are transferred when they depart a position.
Corporate Records provide evidence of DND business and CF operations.  They document decisions and support the DND business and CF operations. They must be saved.  They include, but are not limited to:
Information used in the decision-making process or result in a decision, the implementation of a policy, or to carry out an activity.
Information that provides evidence of approval of the evolution of the document.
Information that initiates, authorizes or completes a business transaction.
Information of all media, such as paper and electronic, video, and audio.
E-mails that meet any of the above criteria.
Transitory Records are information sources that are only required for a limited period of time in order to complete a routine action or to prepare a subsequent record. The must be deleted when no longer required as the sheer volume of Transitory Records can impede our ability to manage Corporate Records. Transitory Records include but are not limited to:
Duplicate copies.
Draft documents where all critical content changes have been incorporated into a subsequent document and saved in RDMS or against a file plan.
Information subsequently incorporated into another document.
Information received as part of a distribution list.
Miscellaneous FYI notices or memorandums on meetings and holidays.
Any e-mail you received or sent that does not meet the criteria of a Corporate Record.


STOP!  You cannot delete or dispose of any records (Corporate or Transitory) that are required for an active or anticipated ATI request, litigation, or official investigation.
There are currently two SharePoint Systems at RMC​.
​One on the "RMC Network" and one on the "DWAN Network"​
​The Official Repository is the DWAN Network SharePoint​ 
collaboration-vcds.forces.mil.ca/sites/RMC/default.aspx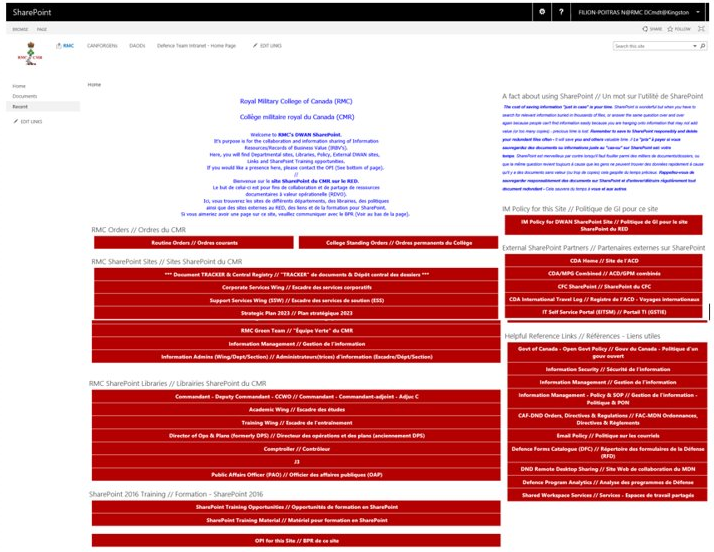 The IMO will train folks on SharePoint and IRBV / IREV process (including retention & disposition) – At the convenience / request of COs, groupings TBD.​​
In the meantime, please take time to have a read of the quick reference guide with regard to IRBV / IREV
admim-smagi.mil.ca/assets/IM_Intranet/docs/fr/gestion-information/gestion-information-documents/manuel-tenue-documents.pdf
Of note, many Federal Government Departments in the NCR are already using GC Docs as a means to preserve electronic files – GC Docs will be coming to outlying areas, i.e. RMC, in 3-5 Years. ​
​In the meantime, RMC members are to use the SharePoint System on DWAN for safeguarding IRBV / IREV and functional electronic files/documents.
RMC's DWAN SharePoint OPI