General Safety Program
Committees and Councils
Hazardous Occurrences
Working Remotel
Training
Safety Talks 
COVID-19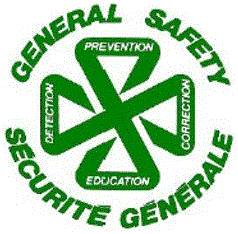 DND General Safety Program
The most important components of a safety program are the health and safety committees. ​
RMC has three Health and Safety sub-committees.​
These sub-committees are responsible to the RMC Safety Council.​
To volunteer to become a member of one of these committees, please contact james.potts@rmc-cmr.ca
CFB Kingston Safety Council

CFB Kingston Safety Committee

RMC Safey Council

Academic Wing Sub-Committee
Support Services Sub-Committee
Corporate and Training Sub-Committee
It is important to report hazardous occurrences by submitting a completed DND663 form to any member of a health and safety committee or council. Military members will also submit a completed CF98 form.​
This includes all incidents that occurred at your place of work, whether you are on-site at RMC or working remotely.
For your wellbeing, it is important to be comfortable while working. While your usual workspace may be well set up, you may be currently working remotely.​
For information on how to overcome the some of the challenges of telework, please visit the Canadian Centre for Occupational Health and Safety
The COVID-19 Awareness Course is required before physically reporting the RMC. It is available on the Defence Learning Network (DLN)
New safety courses, replacing some previously delivered in a classroom setting, will be added to the DLN in the near future.
It is important that all sections continue to talk about safety. This can range from informal chats to structured discussions.​
However you choose to do this, know that by talking about safety, you are helping to make RMC a safer place to work. 
College Standing Order (CSO) 2007-3 contains a wealth of information concerning COVID-19 precautions and policies at RMC.​
Please remember, everyone is currently experiencing a different level of comfort in these uncertain times. Please be respectful of others by maintaining a physical distance of at least 2m and wearing a non-medical mask when this cannot be achieved.
For the most up to date information on COVID-19 from the Government of Canada please  visit Coronavirus disease (COVID-19.​
The following posters are available for download at Infectious Disease Outbreaks / Pandemics.​
Take the time to wash your hands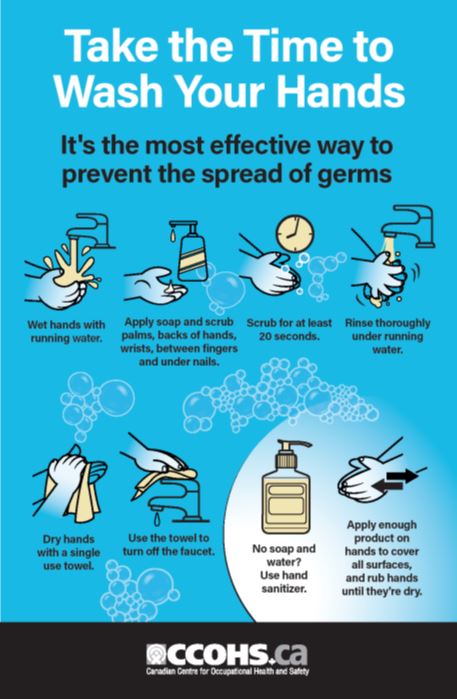 It's the most effective way to prevent the spread of germs.
Wet hands with running water.
Apply soap and scrub palms, backs of hands, wrists, between fingers, and under nails
Scrub for at least 20 seconds
Rinse thoroughly under running water
Dry hands with a single use towel
Use the towel to turn off the faucet
No soap and water? Use hand Sanitizer!  Apply enough product on hands to cover all surfaces, and rub hands until they're dry.
Prevent the spread of Infections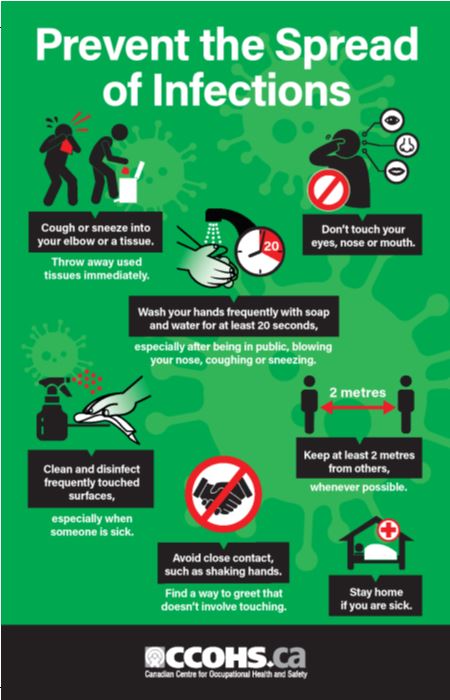 Cough or sneeze into your elbow or a tissue.

Throw away used tissues immediately

Don't touch your eyes, nose, or mouth
Wash your hands frequently with soap and water for at least 20 seconds

especially after being in public, blowing your nose, coughing or sneezing

Clean and disinfect frequently touched surfaces

especially when someone is sick

Keep at least 2 metres from others
Avoid close contact such as shaking hands

Find a way to greet that doesn't require touching

Stay home if you are sick.
How to use hand sanitizer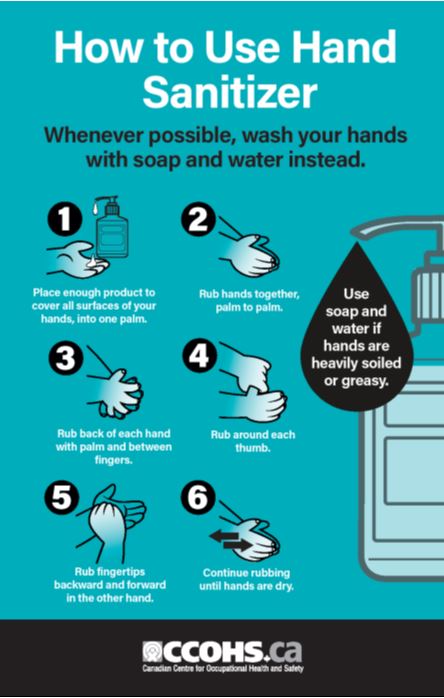 Whenever possible, wash your hands with soap and water instead.
Place enough product to cover all surfaces of your hands, into one palm
Rub hands together, palm to palm
Rub back of each and with palm and between fingers
Rub around each thumb
Rub fingertips backward and forward in the other hand
Continue rubbing until hands are dry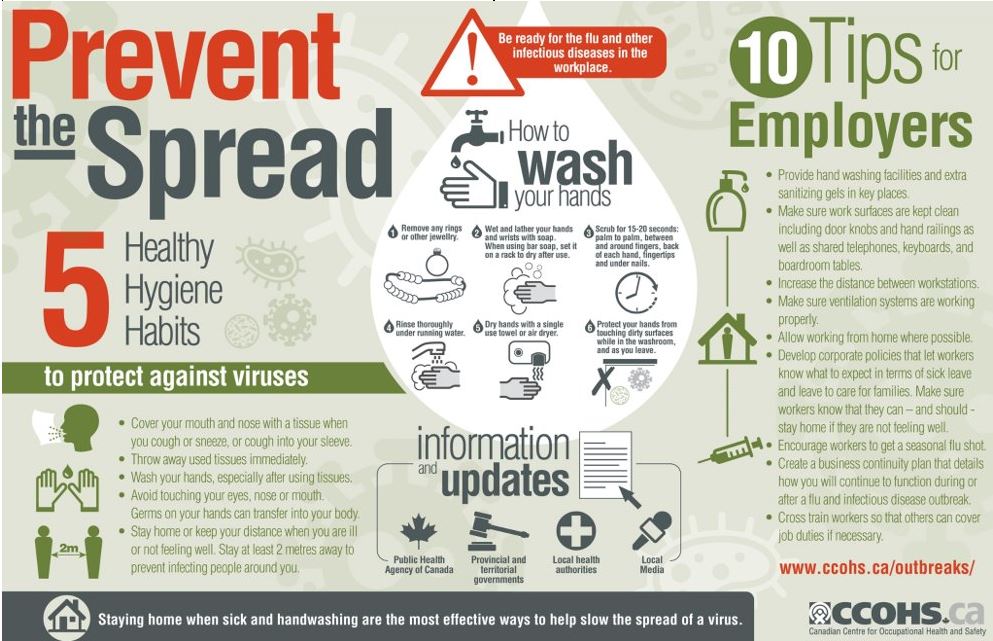 Be ready for the flu and other infectious diseases in the workplace.
5 Healthy Hygiene Habits to protect against viruses
Cover your mouth and nose with a tissue when you cough or sneeze, or cough into your sleeve
Throw away used tissues immediately
Wash your hands especially after using tissues
Avoid touching your eyes, nose or mouth. Germs on your hands can transfer into your body
Stay home or keep your distance when you are ill or not feeling well.  Stay at least 2 metres away to prevent infecting people around you.
How to wash your hands
Remove any rings or other jewelry
Wet and lather your hands and wrists with soap.  When using bar soap, set it on a rack to dry after use.
Scrub for 15-20 seconds palm to palm, between and around fingers, back of each hand, fingertips and under nails.
Rinse thoroughly under running water.
Dry hands with a single use towel or air dryer.
Protect your hands when touching dirty surfaces while in the washroom and as you leave.
10 tips for employers
Provide hand washing facilities and extra sanitizing gels in key places
Make sure work surfaces are kept clean including door knobs and hand railings as well as shared telephones, keyboards, and boardroom tables
Increase the distance between workstations.
Make sure ventilation systems are working properly.
Allow working from home where possible.
Develop corporate policies that let workers know what to expect in terms of sick leave and leave to care for families. Make sure that workers know that they can - and should - stay home if they are not feeling well.
Encourage workers to get a seasonal flu shot.
Create a business continuity plan that details how you will continue to function during or after a flu, and infectious disease outbreak.
Cross train workers so that others can cover job duties if necessary.
Staying home when sick, and handwashing are the most effective ways to help slow the spread of a virus
James Potts - UGSEO​
James.potts@rmc-cmr.ca​ 
x 3976​​
Safety Boards/TVs/Email​​
SharePoint – Safety and Environment Site