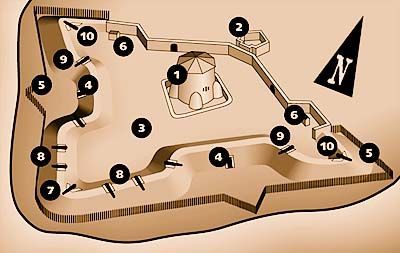 Tower
Guardhouse
Magazine
Sally Port
Picket Fence
Privy
Armstrong Gun
32 Pounder Gun
5 1/2" Howitzer
24 Pounder Gun
This illustration depicts a bird's-eye-view of how Fort Frederick might have appeared in 1860.
The Fort consists of a central Martello Tower, enclosed within outer defensive works. These outer works consist of large, V -shaped earth ramparts pointing south, towards the water, and a rear, limestone Curtain Wall closing-off the north side of the Fort.
Along the base of the outside face of the earth ramparts a wooden picket, or stockade wall, existed.
Various types of artillery were mounted on the ramparts. There were two -24 pounder Guns, two 5 ½ inch Howitzers, four-32 pounder Guns and one-110 pounder Armstrong Gun.