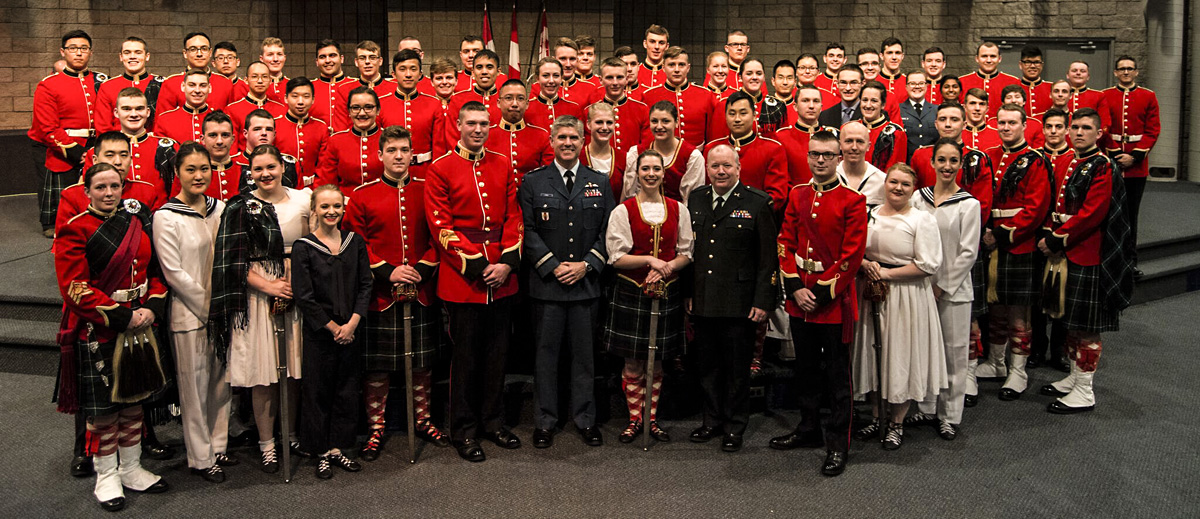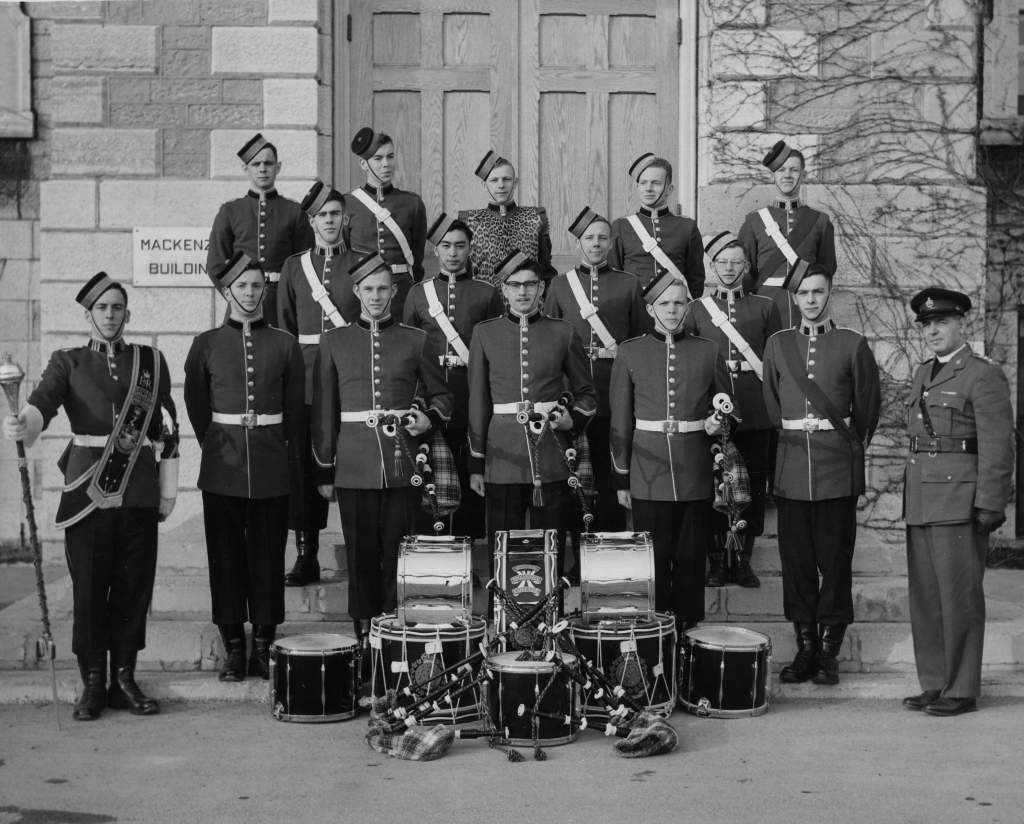 You can request the RMC Band by sending the details of your request to the Training Wing Operations Officer at nicholas.payne@rmc-cmr.ca.
The Band of the Royal Military College of Canada was founded in 1953. Starting as a Pipes and Drums Band, it has since grown to include a Brass and Reed Section, a Choir, and a section of Highland Dancers. The RMC Band is now one of the largest voluntary bands in the Canadian Forces.
Professional military musicians provide most of the musical instruction to the Cadets. Much of the Band organization and administration is carried out by Officer Cadets in their third and fourth years; the Cadet Wing Band Officer, his deputy, five section heads and a service and support officer are all under the guidance of the Band Officer and Bandmaster.
The RMC Band plays a very active and important roll in the College life, providing the music for all parades and military functions. The Band has gained wide popularity through its participation in various public performances, shows, and parades such as the Royal Roads 75th Anniversary in Victoria BC, the annual charity "Concert in Scarlets", an appearance on Canada AM and various other performances in our immediate geographical area. The Band has also helped reinforce the College's proud reputation across North America by travelling to places such as the United States Military Academy at West Point and the United States Naval Academy at Annapolis.
In addition to carrying the normal heavy course load of full-time university programs and military athletics, the Officer Cadets in the Band devote many free hours to practices and rehearsals. Through their continued efforts and talents, they are directly responsible for the Band's solid musical reputation.

Photos
Contacts
The Pipes and Drums Section is comprised of approximately 25 pipers and 25 drummers. Basic instruction on bagpipes and drums is provided by a professional CF musician.
The Brass and Reed Section has a membership of approximately 40 musicians. Instruments are supplied and include flute, clarinet, saxophones, trumpet, trombone, french horn, euphonium, tuba, keyboard and percussion. The ensemble is directed by a professional CF musician.
The Highland Dance Section performs with the Pipes and Drums Section. Previous experience, although welcome, is not necessary as novice instruction is available. There are approximately 20 dancers in the Section.
The RMC Choir, originally called the "Glee Club", has approximately 20 members and sings various styles of music including Anthems, hymns, folk songs, Disney, and current Popular music.
RMC Small Ensembles consists of several groups that come together on their own time to practice. RMC Small Ensembles supports mess dinners, concerts, and other events where an entire band would be impractical. The primary purpose of the ensembles is fun, however they provide leadership opportunities to the Cadets that organize and engage the many violinists, pianists, brass, singers, woodwinds, and even a rhythm and blues group.