The Royal Military College of Canada is very proud to announce that Senator Joseph A. Day will receive a Doctor of Laws honoris causa and Dr. John Allen Stewart will receive a Doctor of Engineering honoris causa at our 111th Convocation at 1300 hours on 17 May 2018.
Senator Joseph A. Day, 

B. Eng. (RMC),

J.D. (Queen's),

L.L.M. (Osgoode),

FEC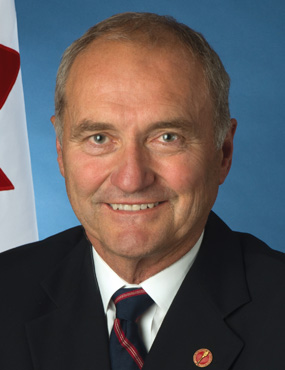 Joseph A. Day was born in Saint John, NB, and grew up in Hampton, NB. In 1963, he arrived at Collège Militaire Royal de Saint-Jean and went on to graduate from the Royal Military College of Canada in 1968 as Best All-Round Graduate (Van der Smissen-Ridout Award) and an Outstanding College Athlete (soccer). He holds a Bachelor of Electrical Engineering from the Royal Military College of Canada, a Juris Doctorate from Queen's University and a Masters of Laws from Osgoode Hall Law School. He has been a member of the bars of Ontario, Quebec and New Brunswick. As well as a Patent and Trademark Agent, he was a member of the Association of Professional Engineers and Geo-Scientists of New Brunswick.
On October 4, 2001, he was called to the Senate upon the recommendation of the Rt. Hon. Jean Chrétien. Senator Day represents the province of New Brunswick and the Senatorial Division of Saint John-Kennebecasis.
Since June 15, 2016, Senator Day has served as the Leader of the Independent Senate Liberal Caucus. He also currently serves as Co-chair of the Standing Joint Committee for the Scrutiny of Regulations and is a member of the Standing Senate Committee on Banking, Trade and Commerce and the Standing Senate Committee on National Finance. Senator Day previously served as Deputy Chair and then as Chair of the National Finance Committee for many years. In addition, he is a member of many inter-parliamentary associations, including the Canada-China Legislative Association, where he serves as Co-chair, and the NATO Parliamentary Assembly, where he holds the position of International Vice President.
His areas of interest and specialization in the Senate include: science and technology, defence, veterans' issues, international trade, human rights, heritage and literacy. Additionally, he hosts annually an RMC Cadet visit to Parliament Hill, as well as the Royal Canadian Air Force Association's "Air Force Day on the Hill" and the Intellectual Property Institute of Canada's annual "World IP Day" on Parliament Hill. Senator Day was appointed Honorary Lieutenant Colonel of 722 (Saint John) Communication Squadron in January 2002 and served until November 2005.
A well-known lawyer and engineer, he has had a successful career as a private practice attorney. His legal interests include Patent and Trademark Law, and Intellectual Property issues. He has been recognized as a specialist in Intellectual Property matters by the Law Society of Upper Canada, and is a fellow of the Intellectual Property Institute of Canada.
He is also an active member of his community. He has served on the Board of the Corps of Commissionaires for New Brunswick, and currently sits on the Board of the Provincial Archives of New Brunswick, and the Board of the Canadian Battlefields Foundation. He is a Board member and Honourary Legal Counsel for the Duke of Edinburgh's International Award - Canada. He has also served as National President of the Royal Military Colleges Club of Canada (1996), as chair of the RMCC Foundation (1997-2000), and as a member of the RMC Board of Governors (2004-2007). He is a recent recipient of the Birchall Leadership Award.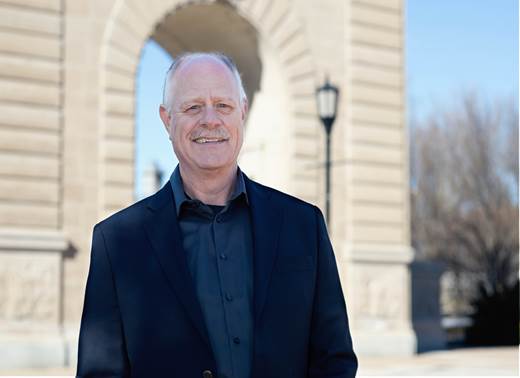 Dr. Al Stewart, is a former Dean of Engineering at RMC, and its first Vice-Principal Academic. Dr. Stewart joined the CF in 1975 when he began undergraduate studies at Royal Roads Military College, transferring to RMC in 1977 to complete a BEng in Civil Engineering in 1979. After graduation, he underwent pilot training at CFB Moose Jaw, and received his wings in 1980. He completed the basic fighter pilot course in 1981 at Cold Lake, and was posted to Bagotville in 1982 to the CF-101 Voodoo Operational Training Unit. Upon completion of his training, he was posted to CFB Chatham, where he flew the CF-101 with 416 (AW) Fighter Squadron.
In 1985, he began graduate work at the University of Waterloo, where he completed a MASc in Transportation Engineering, following which he was posted to RMC in 1987 to teach in the Dept of Civil Engineering. He completed a PhD in 1992 at Queen's, and was hired as a civilian professor at RMC that same year. In 1998, he was appointed Head of the Dept of Civil Engineering, and in 2002 was appointed Dean of the Faculty of Engineering. Among his accomplishments as Dean, he successfully led the Faculty through accreditation twice, obtaining six-year accreditation both times. In 2008, he was appointed Vice Principal (Academic), retiring from that position and from the Public Service in 2013.
Dr Stewart has conducted important research and made contributions in a number of areas, including dynamic traffic signal control, capacity of merge-diverge-weaving sections on freeways, freeway incident detection, airport pavement management, pavement management, asphalt surface treatments, and rural crash mitigation.
In addition to his work at RMC, he is the Past Chair of the Transportation Planning and Research Standing Committee of the Transportation Association of Canada (TAC), and Past Chair of the National Council of Deans of Engineering and Applied Science. He is a Fellow in the Institute of Transportation Engineers, a member of the American Society of Civil Engineers, and TAC, who awarded him a Distinguished Service Award to recognize his truly exceptional long-term contribution to the Association and to the transportation sector.
Dr Stewart received the Canadian Forces Decoration in April 1987. In October 2012, the Governor-General presented him the Queen's Diamond Jubilee Medal, awarded to Canadians who made significant contributions to Canada or to a particular province, territory, region or community within Canada, or for an outstanding achievement abroad that has brought great credit to Canada.
Dr Stewart has also provided outstanding service to the Engineering profession for a number of years. Currently, he reviews the academic credential of applicants for professional licensure with the Professional Engineers of Ontario. He has been involved with the Canadian Engineering Accreditation Board as a program visitor or team vice-chair for accreditation visits within Canada and internationally since October of 2003.