Honorary Colonel J.W. Leech, CM, CD, Chancellor of Queen's University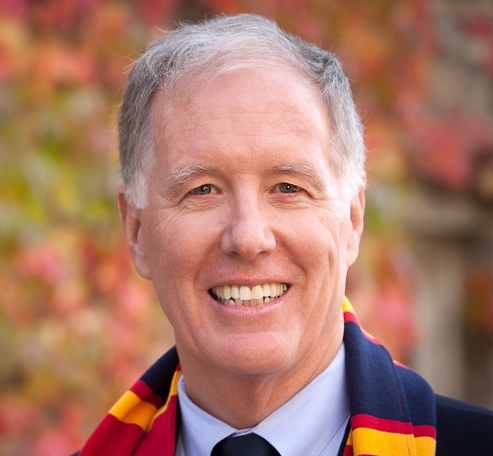 No.7771 James William (Jim) Leech joined Royal Roads Military College in 1964, graduating from RMC with a Bachelor of Science in Honours Mathematics and Physics in 1968. On graduation, he joined the Royal Canadian Corps of Signals (RCCS) and on completion of his Signal training, served with 1er Battalion R22e Regiment and 4 CMBG Headquarters and Signals Squadron as part of NATO forces in Germany.
Following this military service, he earned a Master's degree in Business Administration from Queen's University in 1973, providing the springboard for a successful 40-year business career, with leadership positions across several industries – financial services, energy, real estate, technology start-ups, private equity and pension management – and a champion of corporate governance. He is a graduate of the Institute of Corporate Directors.
He is best known for his leadership of  Ontario Teachers' Pension Plan which he joined in 2001 to build a global private investment programme; he was appointed President and CEO in 2007. Comprising over $130 billion in assets, in each of the years of his leadership the Teachers' total returns and service to beneficiaries ranked Number 1 in the world and he was recognized internationally as the champion of the successful "Canadian Model" of pension management. Before joining the Ontario Teachers', he was President and CEO of Unicorp Canada Corporation, one of Canada's first public Merchant Banks, and of Union Energy Inc. then one of North America's largest integrated energy and pipeline companies.
Upon his retirement in 2014, he co-authored The Third Rail, Confronting our Pension Failures, a best-selling book that received the 2013-2014 Best Canadian Business Book Award and determined to dedicate the balance of his working life to voluntary Philanthropic Leadership and non-partisan Public Service.
He was appointed a Member of the Order of Canada in June, 2014 "for his contributions as an innovator in pension management, for his writings on the subject of retirement funding and for his community involvement."
With regard to Philanthropic Leadership and Public Service, Jim Leech:
was named as a Champion of Public Education by the Learning Partnership in 2009;
was awarded the Queen's Diamond Jubilee Medal for his involvement with the True Patriot Love Foundation, which involvement continues through his leadership and participation in the 125km ski trek to the North Magnetic Pole in 2014, joining with business leaders and athletes as well as soldiers and veterans in support of those suffering from PTSD;
is Board Chair of the Toronto General & Western Hospital Foundation which supports one of Canada's largest healthcare research enterprises;
is Board Chair of the MasterCard Foundation, the world's second largest charitable foundation ($42 billion), focused on youth livelihood in Africa;
is a founding Director of Right to Play International, a global humanitarian organization using sport and play to improve health, develop life skills, and foster peace for children and communities in some of the most disadvantaged areas of the world;
is the Honorary Colonel of the 32nd Signal Regiment of Toronto;
holds the appointment of Chancellor of Queen's University; and
served as Special Advisor to the Prime Minister of Canada to establish the Canada Infrastructure Bank.
Through his life's work in business and Community Leadership, he reflects in real terms the desire of the parliamentary founders of the Royal Military College of Canada that the graduates would not only serve as leaders in the Canadian Military, but that they would be Nation-builders. In recognition of his many contributions, Jim Leech was inducted into the Royal Military College Wall of Honour in 2017 and he is clearly worthy of this honorary degree.