RMC Women's Fencing Team - OUA Champions 2005, 2006, 2007
RMC Men's Fencing Team - OUA Champions 2007, 2008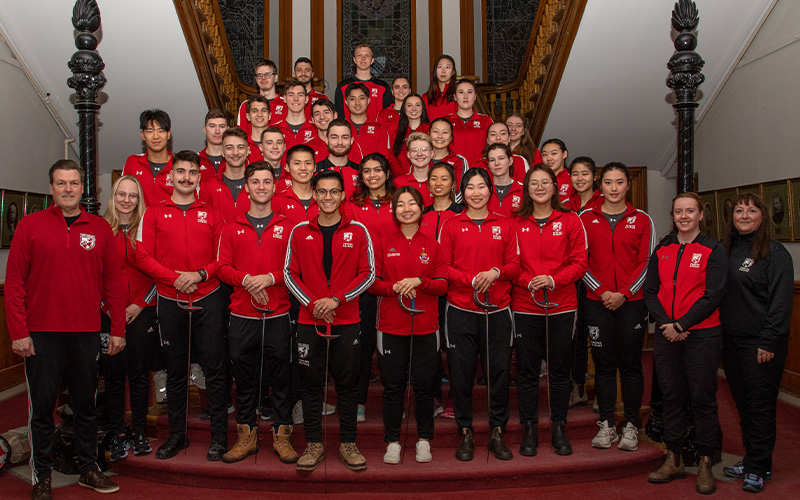 Fencing, as both a military skill and combative sport, has played an important role in military life at the Royal Military College (RMC) since the late 1800's. The college currently participates in the Ontario University Athletic (OUA) fencing league. Nine universities participate in a series of Canadian Fencing Federation sanctioned invitational competitions and OUA league qualifying events which eventually lead to the OUA Championships. Each year the Championship is a heated and highly challenging event to determine the best of the best university fencing teams. Along with participating in the OUA, RMC Varsity fencers enjoy the opportunity to compete in both provincial and national tournaments, attend training camps in Ontario and Quebec, and compete against other military fencing teams such as West Point, the United States Air Force Academy and the British Combined Services Team.
The current varsity program fields both a Men's and a Women's fencing team. Each team is composed of three weapon teams of five officer cadets fencing foil, epee or sabre. Leading both varsity teams is a support staff including a full-time Head Coach, an Assistant Coach, a Cadet Apprentice Coach and armoury technicians. High Performance training is offered in foil, epee and sabre for both male and female athletes. Training includes daily after school practices as well as one-on-one individual lessons. Training is open to both novice and experienced fencers alike.
Fencing is a fast-paced, challenging, and high intensity combative sport. It will push your limits and keep you coming back for more. For more information please contact Patricia Howes at Patricia.Howes@rmc-cmr.ca.
For fundraising information or to donate to the Varsity Fencing program, please contact either
Registration opening soon