Facilities available to the department are second to none - from the many extensive laboratories, state of the art survey equipment, ADP support services to one of the best staff to student ratios found at any post-secondary educational institution. The department is equipped with twenty standalone Pentium 90 PCs, and is connected to the College's network with numerous Hewlett Packard UNIX computers.
The teaching laboratories provide equipment to permit groups of three or four students to conduct experiments in structural engineering, soil mechanics, pavement materials, asphalt technology, hydrology, water supply, wastewater treatment, and environmental engineering; and to conduct exercises in surveying, photogrammetry and traffic engineering.
The department's equipment includes:
Structural Engineering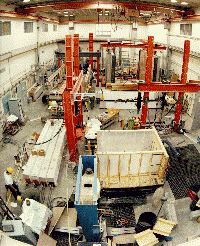 Six electronic data acquisition systems with PC's; MTS loading system with 1000kN, 500kN, 2@250kN and one 50kN capacity pistons; numerous universal testing machines of 900kN, 550 kN, 275 kN and 135 kN capacities; one impact tester, four bench torsion testing instruments; three bench tension testing instruments; two electric concrete mixers; one screening plant, one vibrating table; one 1350kN concrete cylinder testing machine; one freeze-thaw apparatus; two environment-controlled rooms.
Geotechnical Engineering
Soil testing drive rods and sampling spoons; Atterberg limit testing devices; sieves, hydrometers and specific gravity apparatus; standard and modified Proctor compaction apparatus; Harvard miniature compaction apparatus; CBR equipment; consolidometers; unconfined, direct shear and triaxial test apparatus; seismic refraction surveying apparatus; computerized electronic data acquisition systems; temperature and humidity controlled chamber; rigid and flexible wall permeaters.
Transportation Engineering
Apparatus for solubility, specific gravity, flash point, penetration, distillation, viscosity and ductility tests for bituminous materials, Marshall asphalt test equipment. Los Angeles abrasion machine, polished stone value machine, portable skid-resistance tester and extensive equipment for testing road aggregates. Traffic counter and associated equipment.
Environmental Engineering
Analytical Laboratory for Environmental Applications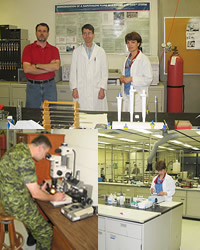 Instruments to determine water supply pH, turbidity, colour specific ion concentrations and bacteriological quality; balances; instruments for pollution studies including colorimetric and spectrophotometric devices; apparatus for wastewater analysis including BOD, COD, nutrient enrichments and toxicity, temperature controlled rooms; atomic absorption spectrometer, TOC analyzer, ion chromatograph; gas chromatograph, mass selective detector to scan samples for organic contamination, neutron activation for metal analysis. Instruments to study pip flow, open channel flow and hydrological phenomena; a mobile laboratory equipped with a gas chromatograph with mass selective detector, a drying oven, a centrifuge, class "A" fume hoods and various field testing equipment.
Surveying and Photogrammetry
Real-time and post-analytical differential GPS receiver equipment; total station, electronic and optical surveying equipment; Loran C radio navigation equipment; photogrammetric stereoscopes and parallax measurement equipment.