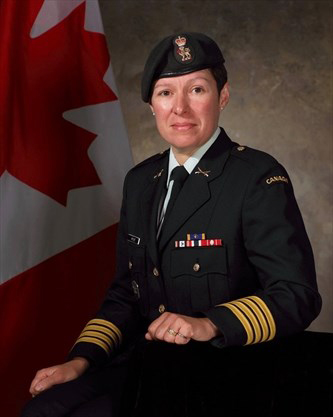 1963 – 2008
Born in England, Karen Ritchie emigrated to Canada with her family in 1973. After graduating from Milton District High School in 1980, she was accepted into the Regular Officer Training Plan at RMC. The Canadian Armed Forces (CAF) had begun a period of transformation focused on wider options for women, gender integration in many branches and consequently, increased recruitment of women. As a result, Karen was among the thirty-two women admitted to RMC in the fall of 1980 known affectionately as the "New Thirty-two" (a tongue in cheek acknowledgement of the "Old Eighteen"), these ladies were trail blazers. They helped transform the military colleges to co-educational institutions and demonstrated that given the opportunity, a military career was achievable, suitable and desirable for many women. These women showed courage and determination as they tackled the challenges of an historically male domain. They inspired young ladies across Canada to follow in their footsteps through RMC and subsequently to military careers.
Karen graduated RMC in 1985 with a bachelor's degree in mechanical engineering and was commissioned as a Second Lieutenant.
Colonel Ritchie pursued a non-traditional career path as an officer in the Electrical and Mechanical Engineering (EME) Branch, where the operational field postings to vehicle and weapons maintenance units were heavily populated with men. She embraced the challenges of transformational leadership and skillfully implemented change management that paved the way for necessary evolution and gender acceptance within Army technical trades. She quickly became a role model for other military women pursuing their own careers, and a mentor for the soldiers under her command at all levels. Colonel Ritchie's career path followed a pattern typical of a junior EME officer, with solid leadership postings to field maintenance units and headquarters staffs. Her natural leadership talents were evident and she progressed rapidly through key positions. She attained a master's degree in 1996 in integrated logistics support and was appointed as an Officer in the Order of Military Merit. Following graduation from the Canadian Forces College Command and Staff Course in 2000, she was promoted to Lieutenant-Colonel and designated as the Canadian Forces Gender Integration and Employment Equity Officer. Her first command appointment came as Commanding Officer of Area Support Unit Toronto.
Perhaps her most notable military accomplishment was when, in 2004, she was the first among the "New Thirty-two" promoted to the rank of Colonel. Following two key staff positions, she assumed command of 5 Area Support Group (5 ASG) and was the first woman to hold that position. 5 ASG is a 4,300-person bilingual formation, headquartered in Montreal, with over sixty sites and three garrisons, responsible for the logistic, administrative, construction engineering, policing and communications support to the Army in the Province of Quebec.
Colonel Ritchie also held a significant appointment as the Canadian delegate to the Committee on Women in the NATO Forces, serving as its Deputy Chairperson. 
Voluntarism was important to Colonel Ritchie and she translated her beginnings as a Brownie and Girl Guide into a life-long attachment to the Guiding movement, for which she was granted the Queen's Guide Award.  Karen was deeply involved at all levels from unit to national headquarters, and whilst living across Canada, Germany and the Arabian Gulf, she rose as a celebrated leader to become a Director of the Board. She was instrumental in the planning committee for major events such as Guiding Mosaic 2006 and the Membership Recruitment Task Force. She applied her passion for the organization into helping young women develop their leadership skills and self-confidence towards reaching their own potential. She also served as Director of the Board for the Friends of the Canadian War Museum and was later remembered by the Board Secretary as a much-liked, well-respected and capable Director. 
In her honour, Colonel Ritchie's own peers organized the "First Thirty-two Fund" in order to send deserving Girl Guides to a major event called Mosaic 2010. To this day, the Girl Guides of Canada annually award the Colonel Karen Ritchie Memorial National Scholarship to deserving Guides entering their first year of an engineering program.
Colonel Ritchie's life ended, sadly, in a tragic accident in 2008 at the age of 45. Her career, and the potential she had, reflected well on the leadership skills learned at RMC and we are left to wonder what might have been. She approached her brief Army career with vigour, enthusiasm and courage to overcome obstacles. She excelled at being an officer and epitomized the CAF fulfillment of gender integration and expanded roles and equality for women, while establishing a reliable and inspirational path for others to come. She stands at the forefront of an important movement and embodies the precepts of "Truth, Duty, Valour".
Plaque Inscription:  
Soldier, Leader, Mentor, Guider