The Royal Military College of Canada is very proud to announce that Mr. Pierre Lavoie will receive a Doctor of Laws honoris causa and Lieutenant-Colonel (Retired) Philip W. Somers, OMM, CD will receive a Doctor of Science honoris causa at our  108th Convocation at 1300 hours on 18 May 2017.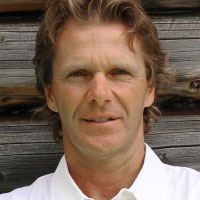 Co-founder, Le Grand défi Pierre Lavoie
Pierre Lavoie was born in l'Anse–Saint–Jean, in 1963.
He and his wife Lynne Routhier, had four children, two of whom died from lactic acidosis, a hereditary illness especially present in the Saguenay-Lac-Saint-Jean region but rare elsewhere in the world. Laurie died in 1997 at 4 years old and Raphaël died in 2000 at 20 months of age.
The year Raphaël was born, in 1998, ten other children were born with lactic acidosis in the region. Pierre could not idly stand by while this disease was wreaking havoc. He devoted all his energy to raising awareness of this deadly condition among people in his region and to funding medical research. Having been a determined athlete up until then (he had already participated several times in the Hawaii Ironman), Pierre became an engaged athlete.
In 1999, he launched the first Défi Pierre Lavoie in Saguenay-Lac-Saint-Jean (cycling across 650km in 24 hours), a feat that he repeated three times. With his Défi, Pierre managed to collect funds to form a multidisciplinary team of researchers at the Université du Québec à Chicoutimi. Important breakthroughs were made, and the gene responsible for lactic acidosis was finally found in 2003. A screening test was also developed, thereby giving hope to future parents.
His meeting with Germain Thibault in 1999 was decisive. Both of them devoted themselves body and soul to an ambitious project aiming to encourage the province's elementary school pupils, as well as the general population, to adopt healthy life habits. Launched in 2008, the Grand défi Pierre Lavoie has been a huge success.
While he has added strings to his bow over the years — as a speaker, science popularizer, spokesperson and media personality — Pierre remains above all a fierce competitor to the core. In October 2013, he completed his tenth Ironman in Hawaii, where he finished second in his age category. To this day, he has won this competition three times.
Pierre knows how to make the most of his exceptional journey to motivate people. With his extraordinary life story, his incredible strength and his communication skills, without fail, he transmits his creative energy to those around him and convinces us it is always possible to overcome challenges when we face them with the right attitude. Always setting new targets for himself, he is a lesson in courage and respect.
In addition to being a member of the Ordre des 21 and a Knight of the Ordre national du Québec, Pierre Lavoie has been named personality of the year in the humanism, courage and accomplishment category at the La Presse Excellence gala. He's also received medals of honour from the Quebec National Assembly and Université de Montréal's faculty of medicine.
Lieutenant-Colonel (Retired) Philip W. Somers, OMM, CD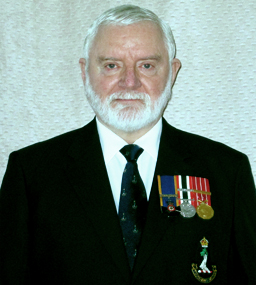 Lieutenant-Colonel (Retired) Philip W. Somers was the driving force behind the creation of the Space Science degree programme at the Royal Military College of Canada (RMC). He has been a tireless leader and researcher in space science in the Canadian Armed Forces (CAF) and the Department of National Defence (DND) since 1984.
Phil Somers grew up in Kensington, Prince Edward Island. He enrolled in the Canadian Armed Forces (CAF) in 1966, starting at College militaire royal de Saint-Jean and graduating from RMC with a Bachelor of Science (Science Applied) in 1971. He became a tactical helicopter and long-range maritime patrol pilot accumulating 5,000 hours flying. In 1986, he graduated from the United States Air Force Institute of Technology in Dayton, Ohio with a Master of Science degree in Space Operations and was posted to the United States Air Force Space Command in Space-Based Missile Warning.
Responding to a CAF-identified shortfall in the availability of officers with undergraduate and graduate-level education in space operations, the then Major Somers put forward a proposal that RMC was an institution that could offer specialised degrees in space science and space operations to meet the CAF requirement. In 1988, to make this happen, the then Lieutenant-Colonel Somers was posted to National Defence Headquarters (NDHQ) Ottawa as Staff Officer Space Plans. During this posting, he acted as an expert advisor in, and promoter of, the development of an undergraduate Space Science programme at RMC. Lieutenant-Colonel Somers was posted to RMC in August 1989 to coordinate the new programme and to teach some of the new courses to the first class of eight students. Lieutenant-Colonel Somers was instrumental in setting up the RMC Centre for Space Research, the Space Surveillance Research and Analysis Laboratory and the Canadian Automated Small Telescope for Orbital Research system. During this period, Lieutenant-Colonel Somers was also active in the University Space Network (USN), a collaboration of five Canadian Universities to create a capstone project for undergraduates in space science.
Lieutenant-Colonel Somers retired from the CAF in 1994 but remained at RMC to conduct satellite tracking and new surveillance-from-space research until 1998 when he joined the Directorate of Space Development in NDHQ as Staff Officer Research and Development. He was later posted to the Defence Research Establishment Ottawa (DREO) for two years, where he put in place the project which produced the current Ground Based Optical (GBO) space surveillance system. The GBO was in turn a stepping stone to another initiative begun by Somers, a space-based telescope called NEOSSat to demonstrate the capability to track satellites from space. In 2001, Lieutenant-Colonel (Retired) Somers took up a new position at the NATO Consultation Command and Control Agency in The Hague, Netherlands as Principal Scientist for early warning and sensors for NATO's new ballistic missile defence system where he served for six years. In 2008 he became Adjunct Assistant Professor of Physics at RMC where he works primarily with Space Science graduate students. LCol (Retd) Somers has presented his work at numerous national and international conferences on satellite tracking, and is the author of several papers. He is functionally bilingual in French and Dutch.
Lieutenant-Colonel (Retired) Somers' vision and efforts led to the timely creation of a much-needed Space Science degree program at RMC to meet national defence requirements that have brought with it a heritage of research and faculty experience in the Department of Physics, and considerable important research and facilities to RMC. For more than a quarter of a century, RMC has been a leader in space science education in Canada. To celebrate these achievements, the Department of Physics, in an initiative chaired by Lieutenant-Colonel (Retired) Somers, marked the 25th Anniversary of the granting of the first RMC Space Science degrees with a ceremony at the 2016 RMC Reunion Weekend. Four of the original eight 1991 graduates attended as did Canadian astronaut LCol Jeremy Hansen, himself an RMC undergraduate and Master's graduate in Space Science.