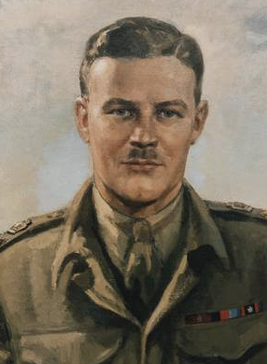 1908 - 2000
Born in Vancouver, Cec Merritt entered RMC in 1925 at the age of 16. Graduating with honours, he joined the Seaforth Highlanders of Canada, a militia regiment, studied for admission to the Bar and became a barrister in 1932. He also played rugby for the Meraloma Club in Vancouver.
At the outbreak of WWII, he was promoted to Major and posted to England. He attended the War Staff Course at Camberley in 1942, and was assigned to command the South Saskatchewan Regiment (SSR) then preparing to become the right flank of the 2nd Canadian Infantry Division for the infamous Dieppe Raid on 19 August 1942.
From the point of landing, Lieutenant-Colonel Merritt's unit advance had to be made across a bridge in Pourville which was swept by very heavy machine-gun, mortar and artillery fire from which the first parties were mostly destroyed and the bridge thickly covered with bodies. LCol Merritt walked calmly across the bridge at least four times under a storm of fire to conduct parties of his men to the eastern side. He then organized and led successful uphill assaults on several of the concrete pillboxes and other enemy positions overlooking the bridge and the village.
Although twice wounded, he organized the withdrawal of his battalion from the beaches, and mounted a rear guard that enabled the greater part of the SSR and Queen's Own Cameron Highlanders of Canada to escape to sea. Merritt and the men of the rear guard could not be brought off, and were compelled to surrender.
LCol Merritt was awarded the Victoria Cross for bravery and leadership under fire. He escaped the first prisoner of war (POW) camp in Bavaria, but was recaptured and sentenced to solitary confinement. Ultimately, he was transferred to the maximum security POW camp at Colditz Castle until liberated towards the end of the War.
After the War, LCol Merritt returned to his law practice in Vancouver and was elected as a Member of Parliament serving the Vancouver-Burrard district until 1949. In 1951, he was appointed Honorary Colonel of the Seaforth Highlanders of Canada. He also served on the Board of Directors of the Mount Pleasant War Memorial Community Cooperative Association until 1994.
LCol Merritt died in Vancouver at the age of 91. His decorations and medals are displayed in the Canadian War Museum. They include the Victoria Cross, World War II service medals, the Queen Elizabeth II Coronation Medal, the Canadian Centennial Medal, the Queen Elizabeth II Silver Jubilee Medal, the 125th Anniversary of the Confederation of Canada Medal and the Efficiency Decoration (ED) with Canada Bar.
Cec's father, Capt C.M. Merritt, was killed in WWI in the Second Battle of Ypres in 1915. Cec married in 1937 and had two sons and a daughter. His son, 5110 Cecil Jamieson Merritt, graduated from RMC in 1962.
Plaque inscription:
Victoria Cross at Dieppe, Member of Parliament, Lawyer