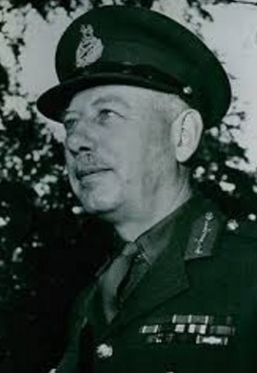 Charles Loewen entered RMC in 1916 at age sixteen and, in 1918, became a 2nd Lieutenant in the Royal Field Artillery, as he was deemed to be too young for war service with the Canadian Army. He saw service in India from 1920 to 1938, and as a staff officer in the ill-fated Norwegian Campaign in 1940. During World War II, he held many senior positions in the British Army. As Corps Commander of the 10th Corps, Royal Artillery, and Deputy Chief of Staff, he saw action in the Italian campaign in the Liri Valley, including Monte Cassino.
In 1943, he drew up invasion plans for Normandy entitled Operation Skyscraper, which formed part of the basis for the invasion in 1944 as Operation Overlord. By war's end, he was General Officer Commanding, 6th Armoured Division. After WWII, Loewen became General Officer Commanding in Trieste with a British Division, an American Brigade and a Yugoslav Brigade under his command. In 1947, as General Officer Commanding, 1st Armoured Division, he was engaged in peacekeeping in Palestine.
He was knighted in 1951 by His Majesty George VI, and in 1953, as Commander in Chief, Far East Land Forces, he was deployed with 60,000 troops to the British Far East to quell a communist insurrection in Malaya. In 1956, he was appointed the Adjutant General of the British Army, and Aide-de-Camp to her Majesty the Queen. General Loewen was awarded the Knight Grand Cross of the Order of the Bath, Knight Commander of the Order of the British Empire and Companion of the Distinguished Service Order.
Upon retirement in 1959, he returned to Canada, settling on the west coast initially, and then in Mansfield, ON in 1978 until his death in 1986. General Loewen's funeral at Camp Borden was attended by senior Army staff and ex-cadets. General Loewen was married and had two sons.
Plaque inscription:
Commander on the battlefield, planner of the invasion of Normandy, peacekeeper, Adjutant General of the British Army