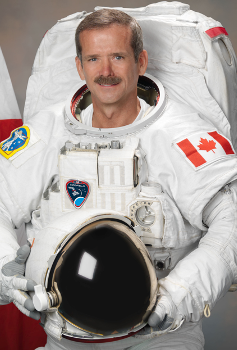 1959 -
Chris Hadfield attended high school in Oakville and Milton, ON, graduating as an Ontario Scholar. He earned his wings in Air Cadets, as a glider pilot at 15 and for powered flight at 16. He entered RRMC in 1978, graduating with a BSc (Mech. Eng.) from RMC in 1982. After basic jet training where he took top honours in his class, Chris flew CF-18 Hornets from Bagotville, QC. He was the first to intercept a Soviet Tupolev Tu-95 long-range bomber in Canadian airspace.
Chris attended the University of Tennessee Space Institute, graduating with an MSc (Aviation Systems) in 1992. He flew multiple aircraft types as a test pilot on exchange to the U.S. Navy. During his career as a pilot, he flew over 70 different aircraft types.
In 1992, Hadfield was selected as an astronaut by the Canadian Space Agency (CSA), and flew his first spaceflight in 1995 as a Mission Specialist onboard Space Shuttle Atlantis. During this mission he visited and helped build the Russian MIR space station, the only Canadian to do so. In 2001, he flew onboard Shuttle Endeavour, and became the first Canadian to walk in space when he helped build Canadarm2 onto the International Space Station (ISS), spending 14 hours 50 minutes in the vacuum of space. That year, he became the Director of Operations for NASA at the Yuri Gagarin Cosmonaut Training Centre in Russia.
In 2003, Chris retired from the Canadian Forces after 25 years, but remained with the Canadian Space Agency for another ten years. In 2003, he was appointed Chief of Robotics for NASA, and in 2006 Chief of ISS Operations.
In 2012, Hadfield flew as pilot of the Russian Soyuz TMA-07M spacecraft, and joined the crew onboard the ISS. He became the Commander of the ISS in 2013 -- the first Canadian to do so -- responsible for the crew of six and the zero gravity scientific research being conducted. During this assignment, he gained worldwide renown for transmitting pictures, words and music of life onboard the ISS, and photos of Earth from space. In May 2013, after 25 years in the RCAF, 21 years in the CSA, and nearly 6 months in space, he retired. That year, he published an internationally best-selling book, An Astronaut's Guide to Life on Earth.
Chris Hadfield was awarded the Liethen-Tittle Award (top pilot graduate of the USAF Test Pilot School) in 1988, and was named US Navy Test Pilot of the Year in 1991. He received the Military and Civilian Meritorious Service Cross (MSC), the only Canadian to receive both, the Queen's Golden Jubilee Medal, the Queen's Diamond Jubilee Medal, the Vanier Award and the NASA Exceptional Service Medal. He was appointed to the Canadian Aviation Hall of Fame, and commemorated on Royal Canadian Mint coins for his spacewalks, as well as on Canada's Five Dollar bill. He received an Honorary Doctorate of Engineering from RMC, and an Honorary Doctor of Laws from Trent University. He received a personal note from Queen Elizabeth II on becoming Commander of the ISS, and had an airport named after him, the Sarnia Chris Hadfield Airport. He is an executive with the Association of Space Explorers, and has had four schools named after him, as well as an asteroid, 14143 Hadfield. In 2014, he was appointed as an Officer of the Order of Canada.
Plaque inscription:
Aviator and Astronaut Extraordinaire