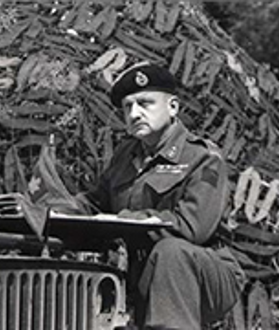 1897 -1985
A Canadian Army Lieutenant-General and diplomat, "Tommy" Burns left RMC in 1914, after only one year, and was commissioned at eighteen in the Royal Canadian Engineers (RCE). He fought in WWI on the Western Front with the RCE from 1916 to 1918. Twice wounded, he was awarded the Military Cross for his bravery at the Somme.
In 1919, as a Captain, he took an engineering posting in Saint John, NB. Within a year, he attended the School of Military Engineering, Chatham, England, and returned to instruct at RMC. Promoted to Major in 1927, he attended Staff College at Quetta, British India. In 1939, as LCol., he attended the Imperial Defence College in London, England. During World War II, he rose quickly through the senior ranks, commanding the 4th Canadian Armoured Brigade and 2nd Canadian Infantry Division in England; then, in Italy, the 5th Canadian (Armoured) Division and, finally, the 1st Canadian Corps in the Liri Valley, at the capture of Rome, and the attack on the Gothic Line in 1944.
He joined Foreign Affairs in 1947, and was posted to Veterans Affairs as Deputy Minister (1950-54). He played a critical role in the Middle East peace process from 1954 to 1959. As the UN Chief of Staff of the United Nations Truce Supervision Organization (UNTSO), he was instrumental in developing the UN's peacekeeping role and overseeing the General Armistice Agreements until peace agreements could be formulated. He served as Special Staff of the UNTSO in Palestine (1954-56), and led the UNEF in Egypt from 1956 to 1959. He was Canada's principal disarmament negotiator (designated as a Canadian ambassador) from 1960-68.
He held the chair of Strategic Studies, Carleton University, from 1969-75. He wrote Manpower and the Canadian Army, Between Arab and Israeli, Megamurder, General Mud: memoirs of two World Wars, A Seat at the Peace Table: the Struggle for Disarmament, and Defense in the Nuclear Age. In 1967, he was made a Companion of the Order of Canada, and as the Canadian adviser on disarmament in Geneva, he received the Pearson Medal of Peace in 1981.
Plaque inscription:
Decorated WW I Soldier, WW II Canadian Corps Commander in Italy, pioneer UN peacekeeper, professor, author.