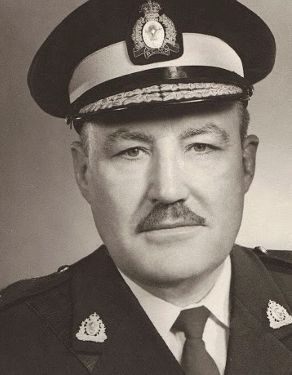 1908 - 1982
George was born in Moose Jaw, Sask. to George Brinton McClellan, Sr. and Elizabeth Ann (Cunnington), and graduated from RMC in 1930 with a Certificate of Military Qualifications in Cavalry and Infantry. He joined the RCMP in 1932, and served across Canada in national security and criminal investigation.
His talent for security work led to his attachment during World War II to the Intelligence Directorate of the RCMP. There he worked closely with British Intelligence, including members of Sir William Stephenson's "Intrepid" team and members of Britain's Special Operations Executive (SOE). He helped organize training exercises in and around "Camp X", the top secret intelligence training centre near Toronto, which opened on 6 December 1941, the day before the Pearl Harbour Attack, and which had been intended to help ensure British and US intelligence collaboration before the US officially entered World War II.
Superintendent McClellan helped find trusted technical expertise for Camp X and arranged to monitor SOE field exercises to avoid public scrutiny. From recent immigrants, he also helped identify potential agents to operate behind enemy lines in Europe. In 1945, immediately after the war, McClellan coordinated the move of Ottawa's Soviet embassy cypher clerk defector, Igor Gouzenko, from Ottawa to a safe house close by Camp X. The successful debriefing of Gouzenko is recognized as a pivotal moment in the beginning of the Cold War between the Soviet Union and the NATO Alliance.
For his work in training Nordic troops based in Canada during World War II, he was awarded the King Haakon VII Cross of Liberation. He was RCMP Commissioner from 1963 to 1967. During his tenure as Commissioner, he terminated general equestrian training for recruits, except those participating in the RCMP Musical Ride. He also expanded the National Police Services in Canada and the Canadian Police College. He received the 1953 Coronation Medal, the RCMP Long Service Medal with Gold Clasp, the Canadian Centennial Medal and the St John Ambulance Medal (Commander, Brother).
Following service with the RCMP, McClellan served as the first Ombudsman in Canada, in the province of Alberta from 1967 to 1974. He received an Honorary Doctor of Laws from the University of Alberta in 1973, and was appointed Chairman of the Alberta Rent Regulation Appeal Board from 1974 to 1976, followed by Chairman of the Alberta Press Council in 1978.
George McClellan married Bertha Elizabeth Austin in 1941; they had three daughters. In his latter years, he was active in the Edmonton Branch of the RMC Club. He died in 1982.
Plaque inscription:
Allied Spy-training Facilitator, RCMP Commissioner, Ombudsman