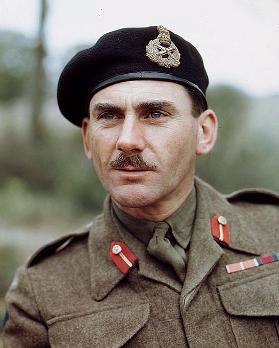 1903 –1974
Born in England in 1903, Guy Simonds immigrated with his family to Victoria, BC, in 1912.  He attended Ashbury College in Ottawa before entering RMC in 1921 when his driving characteristic as a highly principled person was already evident.   He scored second on the last national selection exam administered for the College.  On graduation in 1925, Simonds was awarded the Sword of Honour, the Victor Van der Smissen Award and the Governor General's Silver Medal.
Following RMC, Simonds was commissioned in the Royal Canadian Artillery, and served first with B Battery, RCHA, in Kingston and next with C Battery in Winnipeg. He was then selected for the Long Gunnery Staff Course in the UK, following which he served briefly in Kingston and then returned to the UK for Staff College at Camberley.   Promoted to Major, he returned to RMC as Associate Professor of Artillery, and later Instructor in Tactics.
On mobilization in 1939, Simonds was appointed GSO2 with the 1st Canadian Infantry Division and was back in the UK before the year's end. In 1941, he was named Brigadier General Staff, 1st Canadian Corps; and in 1942, Commander, 1st Canadian Infantry Brigade.  For "outstanding zeal and ability", he was made a Commander of the Order of the British Empire (CBE).
In early 1943, he was promoted to Major-General and appointed to command 2nd Canadian Infantry Division. He was soon transferred to command the 1st Canadian Infantry Division for the invasion of Sicily and subsequently Italy.  For his "boldness, efficiency and inspiring example" in Sicily, he was awarded the Distinguished Service Order (DSO).  At that time he was the youngest Canadian to lead a Division into battle.  He later led the 5th Armoured Division in Italy until year's end. 
In January 1944, Simonds was promoted to Lieutenant-General and returned to England as General Officer Commanding, II Canadian Corps. He led that formation in battle in Normandy, and for his "organizing ability of the highest order… skillful execution and resolute leadership," he was made a Companion of the Order of the Bath (CB) in the field by King George VI. He continued to lead II Canadian Corps on the advances through Belgium, The Netherlands and Germany.
From Sept. to Nov. 1944, as acting Commander, 1st Canadian Army, Simonds led the critical battles to clear the Scheldt estuary, following which he returned to his command of the II Canadian Corps. 
Simonds is credited with inventing the Allied version of the Armoured Personnel Carrier in 1944. It was said of him that he "was one of the more outstanding Allied corps commanders in Europe, a dour, direct officer who brought unusual imagination to bear on every operational plan for which he was responsible." He "created one of the most effective tank-infantry teams in the Allied forces through a high degree of improvisation… versatile and imaginative."  Simonds received military honours from France, Belgium, The Netherlands, the USA and Poland.
Following the war he served as Chief Instructor, Imperial Defence College, London, England from 1946 -1949, Commandant of both the National Defence College and the Canadian Army Staff College in Kingston from 1949 to 1951 and Chief of the General Staff (CGS) from 1951-1955.
During his time as CGS, LGen Simonds oversaw the formation and training of the Canadian 25th Brigade for service in the Korean War, and the 27th Brigade for service with NATO in Europe.  He also created a rotational system to ensure that Canadian formations on active duty were reinforced and replenished with Canadian-based units. 
In retirement, LGen Simonds worked in business and charitable organizations; ,notably, the Halifax Insurance Company, the Royal Lifesaving Society of Canada, the Gurkha Appeal, The Canadian Corps of Commissionaires, and the National Ballet.  He served as Honorary Colonel of the Royal Regiment of Canada from 1960 until his death in1974.
LGen Simonds spoke publicly to inform Canadians on defence matters.  He argued that nuclear arms and missiles would not obviate the need for strong conventional forces.  He also argued that integration was the right move for Canada – but not unification, as was done in the late 1960s. 
As a subaltern in 1932, Simonds had to ask special permission to marry, which he did.  He and Katherine had two children, Ruth, in 1933 and Charles in 1934.  In 1960, he married Dorothy Sinclair.
In 1970, LGen Simonds was made a Companion of the Order of Canada, "For a lifetime of military service to Canada."  He died four years later.   
Plaque inscription
Scholar, Soldier, Army Commander in battle, Chief of General Staff, Volunteer