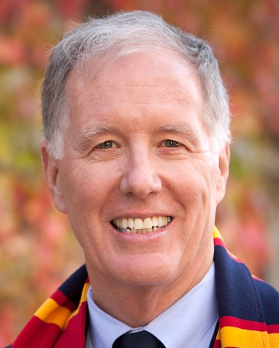 1947 -
After school in Kingston, Ottawa, Camp Petawawa and Edmonton, Jim Leech attended Royal Roads and RMC, graduating in 1968 with a BSc (Hons. Math & Physics).  He was CWC in second year at Roads, competed on intercollegiate skiing and water polo teams and received the HE Sellers Award (Outstanding Graduate) and the Canadian Army Award. Jim played intercollegiate rugby and was a CSL at RMC where he received the Commandant's Cup, the Royal Canadian Corps of Signals Trophy, the National Defense Award of Merit and an RMC Club Prize.  Jim grew up in a military family:  his father, BGen George Leech, and uncle, LGen Don Laubman, were career officers. His older brother, MGen John Leech, graduated from RMC in 1964.
Immediately after graduation, Jim completed the Royal Canadian Corps of Signals Subalterns' course, winning the "Jimmy Trophy" for best student. He was posted to the 1 R22eR in Germany, and subsequently to HQ 4 CMBG. He returned to 1 R22eR as Battalion Signal Officer in 1970.
Following his release from the Canadian Forces, Jim was awarded several scholarships for the MBA programme at Queen's University where he was elected Class President. Upon graduation at the top of his class in 1973, he joined Commerce Capital Corporation, a financial services and real estate company, and over the next six years held increasingly senior executive positions in Montreal, Calgary and Toronto as the company grew through acquisitions. 
In 1979, Jim joined Unicorp Canada Corporation, a firm active in energy, financial services, real estate, and merchant banking. He led Unicorp's aggressive US and Canadian acquisition strategy and was appointed President in 1983. Following the acquisition of Union Energy Inc., Jim was also appointed President and CEO of Union, where he oversaw its transformation into one of North America's largest integrated energy companies.
During the 1990's, Jim focused his acquisition and operating experience on the technology industry, leading two companies through their early start-up phase. In 2001, Jim was recruited to establish Teachers' Private Capital as the private investing arm of Ontario Teachers' Pension Plan. After successfully building Teachers' Private Capital into one of the world's largest private investors, Jim was appointed President and CEO of Teachers'. When he retired in 2014, Teachers' was Canada's largest single-profession pension plan, responsible for investing $150 billion for 310,000 teachers. It was recognized as the world's leading pension organization, and ranked first in the world for investment performance and client service.
Jim was awarded the Queen's Diamond Jubilee medal in 2012 in recognition of his work with True Patriot Love Foundation.  In 2013, he co-authored The Third Rail: Confronting Our Pension Failures, a bestselling book that received the 2014 National Business Book Award. 
In 2014, Jim was a member of Canada's largest expedition to ski to the magnetic north pole to raise awareness and funds for Canadian military veterans suffering from post-traumatic stress disorder (PTSD). He was invested as a member of the Order of Canada in 2014 for his contributions as an innovator in pension management, his writing on retirement funding, and his community involvement.
In 2016, Jim is Chancellor of Queen's University, Senior Advisor to McKinsey & Company, Chair of Toronto General and Western Hospital Foundation, Chair of MasterCard Foundation, Honorary Colonel of 32 Signal Regiment and Founding Director of Right to Play International. Jim is married to Deborah Barrett, CA, Chief Financial Officer, The Woodbridge Company Ltd. They have three children: Jennifer (Cumming), Joanna (Thiessen) and Andrew Leech, and enjoy several grandchildren.
Plaque Inscription
Scholar, Athlete, International Business Builder,  Volunteer Leader