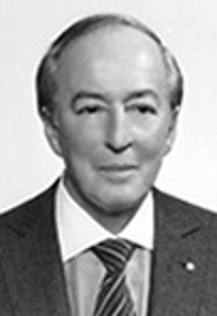 1922 - 2012
Jean Ostiguy attended Collège Jean-de-Brébeuf and École des hautes études commerciales in Montreal and entered RMC in 1940, with the Last War Class. He graduated with a Special War Certificate in 1942, qualifying him for a commission. He joined the 4th Princess Louise Dragoon Guards, one of Canada's oldest regiments, as it mobilized for the Italian Campaign in both a reconnaissance and infantry role. He served with it until wounded near Monte Cassino, Italy in 1944. He left the Armed Forces in 1945 with the rank of Captain.
Jean entered the financial industry with Casgrain & Cie Ltée. In 1956, he became founding partner and president of Morgan, Ostiguy & Hudon Ltd., Investment Brokers, which in 1972 merged to become Crang & Ostiguy Inc. In 1977, Jean merged Crang & Ostiguy Inc. into Greenshields Inc. In 1982 he was responsible for orchestrating the merger of Greenshields Inc. with Richardson Securities of Canada Ltd to become Richardson Greenshields of Canada Ltd. Jean was named honorary president of the new company.
In 1966, Jean became president of the Investment Dealers Association of Canada. He sat on many Canadian boards, including Ford Canada, Kerr Addison Mines, General Accident, Procor, Ciba-Geigy Canada, Minnova, Montreal Stock Exchange and Sintra. He was on the executive committee of the Board of CIBC for more than two decades.
Jean contributed his time and organizational skills to many charitable organizations such as Centraide and Hôpital Jean-Talon - where at the request of then Premier Jean Lesage, he restructured the management of the hospital. He also led fundraising campaigns for the Canadian Council of Christians and Jews in Montreal. He also served on several non-profit boards: Canadian Mental Health Association, Montreal Chamber of Commerce, Royal Victoria Hospital, Montreal Symphony Orchestra, Lester B. Pearson College, Montreal Fine Arts Museum, National Museums of Canada, and Royal Military Colleges Club of Canada of which he was President (1967-68). He served as Honorary Lieutenant-Colonel of the Régiment de Maisonneuve from 1988 to 1994.
As a philanthropist, Jean was a member of the Canadian Committee of the Maison des étudiants canadiens in Paris since 1955 and President from 1964 to 2001. He devoted more than 45 years of his life to ensuring Canadian students could benefit from affordable living while pursuing their education in Paris. His determination and perseverance were instrumental in ensuring the continued operation of the Maison des étudiants canadiens. During many years when expenses exceeded revenues, he solicited governments, corporations and private individuals to donate funds to stabilize and streamline the operation and expand space.
Jean was an Officer of the Order of Canada, and also held the Order of Malta, the Order of St. Lazare, the Queen's Jubilee Medal, the Star of Italy, the Defense Medal, the War Medal 1939-1945, the Canadian Centennial Medal and the Canadian Volunteer Service Medal. Other honours awarded Jean include the Legion of Honour, Officer of the Ordre des Palmes académiques of France and the Eleanor Roosevelt Humanities Award. He was awarded an Honorary Doctor of Laws (1978) by RMC and, since then, had flown the RMC flag outside his house in Montreal.
Jean passed away peacefully in Montreal on March 31st, 2012.
Plaque inscription:
Soldier, businessman, volunteer, philanthropist