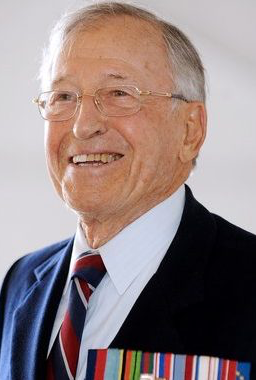 1919 - 2016
Gilles Lamontagne, the youngest of five children, was born in Montréal in 1919. He attended Collège Jean-de-Brébeuf and l'École des hautes études commerciales in preparation for a business career. In May 1941, as WWII was raging and the Allies' fate hung in the balance, Gilles cut short his studies and volunteered to join the Royal Canadian Air Force (RCAF). 
He became a bomber pilot, and was soon in Great Britain with the mostly francophone 425 Bombing Squadron, "Les Alouettes." In 1943, returning from a raid over Essen, Germany, his Wellington aircraft was attacked by an enemy fighter and caught fire. He was able to keep his plane flying long enough to let his crew parachute out; he jumped last. All survived. This action brought him a citation on the honour list of King George VI. He remained a prisoner of war from 1943 to 1945.
Back in Canada, Mr. Lamontagne settled in Québec City and set up a successful import business. In 1962, he became involved in city politics. After three years as an alderman, he was mayor of Québec City from 1965 to 1977, and worked to end municipal corruption then rampant, to improve city sanitation and to implement numerous major public works. He was active on the Board of Directors of the Canadian Federation of Mayors and Municipalities and the  Union des municipalités du Québec for seven years. When no longer mayor, citizens who met him on the street still called him, reverently, Monsieur le maire".
From 1977 to 1984, he was involved in federal politics as Member of Parliament, Postmaster General (16 months) and acting Minister of Veteran Affairs for one year during three and a half years as Minister of National Defense. During his 22 years of municipal and federal political life, he never lost an election.
In 1984, Mr Lamontagne left politics to become Lieutenant Governor of Québec, a position he held for six years. During this mandate, he received several honours highlighting his career: the Order of Saint John of Jerusalem, the United Nations Medal, and honorary PhDs from RMC and CMR de Saint Jean. In 1990, he was made an Officer of the Order of Canada for over thirty years service to Canada. From 1987 to 1996, he was honorary Colonel of 401 Squadron, RCAF, in Saint-Hubert. He was on the Board of Directors of Université Laval from 1991 to 1996. Other organizations also tapped his expertise: The Chamber of Commerce of Québec, the Economic Council of Canada, Opération Nez Rouge, and the Family Center of CFB Valcartier for over 15 years. From 1991 to 2006, he worked as a consultant in public affairs.
In 1997, the Minister of National Defense named him Chairman of the RMC Board of Governors. This newly-formed Board had, as part of its initial tasks, to ensure the full implementation of recommendations from the Report of the Commission of Inquiry into the Deployment of Canadian Forces to Somalia. To this end, the Board of Governors set up a committee, chaired  by H2951 Gen (ret) Ramsey Withers, which spent three years examining the undergraduate program at RMC and produced the Withers Report.
In 2000, Mr. Lamontagne received the Ordre national du Québec, the highest award the Québec government can bestow, to recognize his exceptional political contributions at the municipal and federal levels. The Chambre de commerce et d'industrie de Québec named him to the Académie des Grands Québécois in 2005.
In 2006, among other Canadian servicemen, he was made a chevalier de la Légion d'honneur by France for courage and exemplary conduct during the battles for the liberation of France and Europe.
In 2008, Gilles Lamontagne, simultaneously with Jean Pelletier and Jean-Paul l'Allier, the two mayors who followed him in Québec City, received the Médaille de la Ville de Québec for the continuity with each other during 40 years. In 2011, he was awarded the Minister of Veterans Affairs Commendation for participation in his community and throughout the province of Quebec. In 2012 he was also awarded the Queen Elizabeth II Diamond Jubilee Medal.
He was married to Mary Schaefer for 57 years, until her death. He wrote about his wife: "Her loyalty and beneficial sharing made her an extraordinary companion. She was the source which inspired me, which embellished my life and completed my actions". They had four children. Mr. Lamontagne died in June 2016.
Citation on plaque
Bomber pilot, Businessman, Politician, Lieutenant Governor of Québec, Defense  Advisor