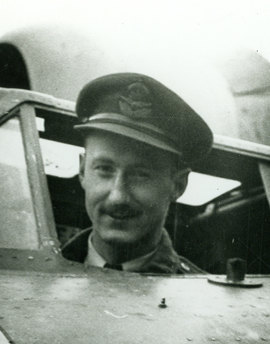 1915-2004
Born in St. Catharines, Ontario, an alumnus of St. Catharines Collegiate, Birchall graduated from RMC in 1937 and joined the Royal Canadian Corps of Signals. He transferred to the RCAF to train as a pilot and, at the outbreak of war, Flying Officer Birchall flew convoy and antisubmarine patrols off Nova Scotia with No. 5 Squadron. In early 1942, after a brief posting in the Shetland Islands with 413 Squadron, he transferred with the Squadron to Ceylon.
While patrolling south of Ceylon, Squadron Leader Birchall's crew spotted a large Japanese fleet, including five aircraft carriers, steaming to attack the Royal Navy's Eastern Fleet based in Ceylon. Birchall was able to warn the fleet before he was shot down. Three of his crew were killed in the crash. He, and the remaining 5 crew members, spent the rest of the war in four successive Japanese concentration camps. Air Commodore Birchall has been widely described as the "Saviour of Ceylon".
In the concentration camps, where prisoners were treated as slave labour, Birchall, as senior Allied officer, continually put his life at risk in defense of the prisoners. He kept secret diaries, which were buried and dug up after the war, and used in evidence at Japanese war crimes trials. He was liberated by American troops at the war's end.
Following service on the Canadian attaché staff to Washington and the Canadian NATO delegation to Paris, Birchall was Commandant of the Royal Military College from 1963 until his retirement in 1967, after which he became Honorary Colonel of the College, and Vice-Patron of the RMC Club. He retired rather than being associated with the unification of the Canadian Forces. He served as Honorary Colonel of 400 Tactical Sqn. and 413 Sqn. From 1967 to 1982 he was CEO/CAO of the Faculty of Administrative Studies at York University. He died in Kingston in 2004 at the age of 89.
Birchall was awarded the OBE for his extraordinary bravery in Japanese concentration camps, the DFC for detecting the Japanese attack on Ceylon, the American Legion of Merit, the Vimy Award, and the OC. The Leonard Birchall Sports pavilion at RMC is named in his honour, and his plaque is on the RMC Wall of Honour.
Plaque inscription:
Aviator, Saviour of Ceylon, Protector of POWs, University Administrator, Humanitarian