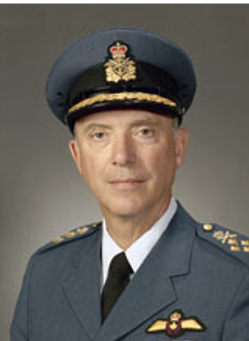 1934 -
Born in Trail, BC, and educated in Pembroke and Montreal, General Manson attended both Royal Roads and Royal Military College. He was appointed Cadet Wing Commander in both colleges, and graduated from RMC in 1956, receiving the College Sword of Honour in his final year. He obtained a Bachelor of Science in Electrical Engineering from Queen's University in 1957.
A fighter pilot, he commanded at every level of the Air Force prior to his appointment as CDS from 1986 to 1989. He served extensively with Canada's NATO forces in Europe. From 1977 to 1980, he was program manager of the New Fighter Aircraft project, leading to the selection of the CF-18 Hornet. He was Commander of Air Command from 1983 to 1985; and Assistant Deputy Minister in the Department of National Defence from 1985 to 1986. He holds two honorary doctorate degrees, and is a graduate of both the Canadian Forces Staff College and the National Defence College.
General Manson entered business as president of a large aerospace company, retiring in 1997 as Chairman of Lockheed Martin Canada. He received the C.D. Howe Award for achievement in the fields of planning, policy-making and leadership in aeronautics and space. He chaired the "Passing the Torch" capital campaign, which raised $16.5 million towards the Canadian War Museum. As a member of the Board of Trustees of the Canadian Museum of Civilization Corporation, he chaired that Board's Canadian War Museum Committee and the Canadian War Museum Building Committee. He is past chairman of the Aerospace Industries Association of Canada and Canada's Aviation Hall of Fame.
He was appointed Commander of the Order of Military Merit (1980), Commander of the U.S. Legion of Merit (1989), and Officer of the Order of Canada (2002), and was a recipient of the Vimy Award (2003). General Manson served on the Advisory Council of the Canadian Defence and Foreign Affairs Institute, and as the president of the Conference of Defence Associations Institute.
Plaque inscription:
Fighter pilot, CF-18 project leader, Chief of the Defence Staff, businessman, fundraiser, volunteer, musician.