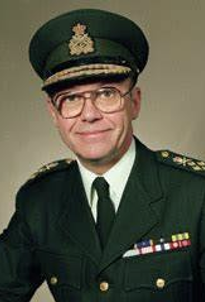 1930 – 2014
Ramsey Withers was born in Scarborough, Ont., and entered Royal Roads in 1948 as one of the "First 86" cadets of the new tri-service college. Graduates of 1952 were told, "If you go regular army, you'll go to Korea. Period." He served with distinction as a Signals officer during the last year of that war.  While in Germany as a captain, his Brigade Commander was heard to say: "Ramsey's so damned brilliant, he frightens me." He was the first post-WWII officer to reach general officer rank, and did so at the age of 39. 
BGen Withers was appointed first Commander of the newly created Canadian Northern Region in 1970, and, as a MGen served as Commander Canadian Forces Europe. General Withers was then Canada's "Sending State Force Commander" under the NATO Status of Forces Agreement. He built a strong relationship with the host country, Germany, and other NATO sending-state military forces. His responsibilities for military and civilian Canadians serving in Canadian Forces Europe included a health care and school system, a motor vehicle licensing system and a judicial system, paralleling similar services in Canada. 
In 1977, LGen Withers was Vice Chief of the Defence Staff and, in 1980, he became the sixth Chief of the Defence Staff, retiring in 1983 after 35 years of service. 
Appointed Deputy Minister of Transport, Withers served four Ministers of Transport until his second retirement in 1988. At Transport Canada, he revitalized Canada's transportation regulatory environment, and oversaw improved harmonization with those of the USA and Europe. 
In retirement, Withers became president of a government relations firm and founding chairman of another firm, director of an aerospace technology company, consultant to the Office of the Auditor General, and Chairman of the Industry Government Relations Group.  At the request of the Board of Governors of RMC, he chaired a pivotal study on the future of RMC in 1998. The resulting Withers Report was largely implemented. He was made an Honorary Life Member of the Royal Military Colleges Club of Canada and served as its Honorary President.
Withers served as Chairman of the Canadian War Museum Committee, and began the private sector fundraising for the new museum. He was a Trustee of the then Canadian Museum of Civilization, and served on the National Council of Scouts Canada. He was a member of Queen's University Council from 1997 to 2003.
Withers was Principal Commander of the Order of Military Merit. Other awards included the Queen Elizabeth II Silver and Golden Jubilee Medals, two honorary Doctorates, the Commissioner's Award of The Northwest Territories, the Outstanding Achievement Award of the Public Service of Canada, the National Transportation Award of Excellence, and Queen's University Alumni Achievement Award.
General Withers was, for six years, Hon. LCol  of the Governor General's Foot Guards, and was a frequent volunteer interpreter at the Canadian War Museum. Ramsey is remembered as a true gentleman, a humble man with a powerful personality. He was predeceased by Alison, his wife of 54 years, and is survived by a son, twin daughters and eleven grand-children.
Plaque Inscription:
Soldier, Leader, Public Servant, Volunteer