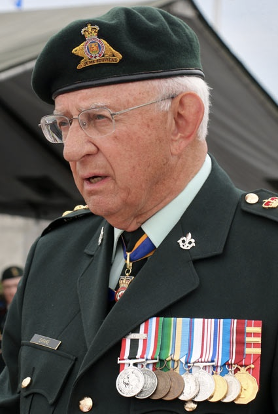 1938-
Rick Evraire was born in Ottawa in 1938, went to school there, commanding the cadet corps in his final year before entering Collège militaire royal de Saint-Jean (CMR) in 1954. He graduated from RMC in 1959, and obtained a BEng (Civil) from McGill University in 1960. Upon graduation, he served with the 1er Bataillon, Royal 22e Régiment, Valcartier, Québec, following which he was posted to the Royal Canadian School of Infantry, Camp Borden, Ontario. Promoted Major in 1966, he assumed command of C Company, 2e Bataillon, Royal 22e Régiment, at Werl, Germany.
In 1968, he was Personal Assistant to the Chief of Personnel at Canadian Forces Headquarters in Ottawa. In 1970, he was promoted Lieutenant-Colonel and assigned to the United Nations Military Observer Group in India and Pakistan. In July 1971, he became Commanding Officer, 1er Bataillon, Royal 22e Régiment, in Lahr, Germany. From July 1973 until July 1975, he was Senior Staff Officer Operations of 4 Canadian Mechanized Brigade Group in Canada's NATO Brigade based in Lahr. He was then promoted Colonel and became the first former graduate to command CMR.
As Brigadier-General, he commanded the Canadian Contingents of the United Nations in the Middle East, at Ismailia, Egypt from mid 1978 to mid 1979, after which he became Director General Management Services, Ottawa, before returning to Lahr in 1982, as Commander of 4 Canadian Mechanized Brigade Group, Lahr.
From 1984 to 1988, as a Major-General, he was Commandant, National Defence College, Kingston, and Chief, Land Doctrine and Operations, at National Defence Headquarters, Ottawa. Promoted Lieutenant-General (LGen) in April 1988, he assumed the post of Canadian Military Representative to the NATO Military Committee in Permanent Session, in Brussels, becoming the dean of the Military Representatives in his fourth and final year.
In 1989, he obtained a Master's of Public Administration from Queen's University, and in 1994, a BSc from RMC.
In May 1993, LGen Evraire was elected to the position of Commandant of the NATO Defence College, Rome, where he served for three years. During and since his final decade of military service, he has been a strong promoter of improved professional training and development within the Canadian Forces. He retired from the Canadian Forces in 1997 after 42 years service.
From May 1998 until May 2010, he was Senior Counsel with InterCon Consultants, representatives in Canada of Arianespace of France.
LGen Evraire was awarded an Honorary Doctorate in military sciences from RMC in May 1997. In March 1998, he became a Research Associate with the Defence Management Studies Program (DMSP) at Queen's University. In 1998, the Chairman of NATO's Military Committee appointed him to a four year term as one of six members of the NATO Defence College's Academic Advisory Board.
In February 2001, he was elected President of the Conference of Defence Associations Institute, and in 2002, Chairman of the Conference of Defence Associations, a post he continues to occupy. He is Chair of the Board of Governors of Royal Military College Saint-Jean, Honorary Lieutenant-Colonel of 33 Combat Engineer Regiment, and Senior Warden of Camp 12 (Ottawa) of the 'Ritual of the Calling of an Engineer'.
A renaissance man, Rick has authored Canada's NATO Brigade: A History and Chambre 204, a play about the life of a cadet at CMR and RMC. He has run marathons, is a keen golfer and has tried to play the flute, guitar and piano. Flawlessly bilingual, he has been a keen advocate for recognition of the importance of French and francophone culture wherever he has served.
Rick is a former Chair of Ottawa's Notre-Dame Cathedral Parish Council, a member of Ottawa's Montfort Hospital Foundation and was on the fundraising committee for the National Memorial Centre at the Beechwood National Cemetery of Canada. He and Thérèse (Valiquette) have been married for more than 50 years.
Plaque inscription:
Soldier, Scholar, Renaissance Man