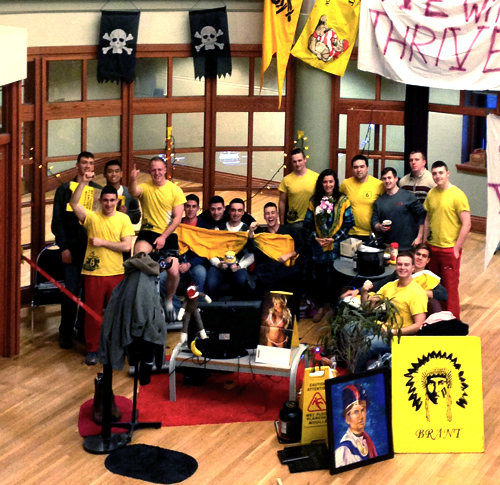 6 Squadron shows their pirate pride as they cheer each other on throughout the night at the 7th Annual Bike-O-Thon.
On March 6th and 7th, the Royal Military College of Canada held its seventh annual Bike-O-Thon. The event is a 24 hour race held between the 12 RMC squadrons and a team from Royal Military College Saint Jean. Each team relays from one person to the next at his or her own pace to achieve the furthest overall distance.
The goal is to raise funds for the Soldier On program that helps ill and injured soldiers maintain a healthy and active lifestyle. To raise funds, each participant donates $10.00 or more to the organization. During the event, a silent auction is held where various locally donated items are bid on. To further raise funds, ten parade square parking permits were auctioned. The privilege to wear civilian clothing on two Fridays, as opposed to the regular uniform, was also made available to cadets for the price of $5.00 for both days.
This year, the Bike-O-Thon had to adapt its standard of evaluation due to unfortunate circumstances, such as the sensors for the odometers being broken and a shortage of spin bikes. Instead of distance, the squadron who had best decorated their area, as well as demonstrated the best esprit-de-corps would be crowned victor. This aroused an excited ambiance that lead to some spontaneous karaoke singing for bonus points. Based on the adapted standard of evaluation, the RMC 2015 Bike-O-Thon winning squadron is Pontiac (3) Squadron.
Ultimately, even with the unforeseen circumstances, the competition was a success. RMC is proud to be able to contribute to the Soldier On program to help those in need.