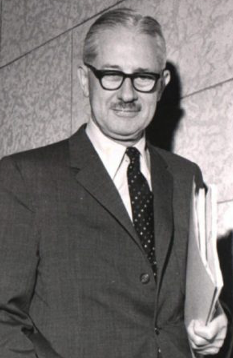 1906 - 1987
Graduate of RMC in 1926, Gordon excelled in athletics, captaining the football team, boxing and running. Upon graduation, he became a chartered accountant and partner in his family firm. With the outbreak of WWII, he consulted first to the Bank of Canada, establishing the Foreign Exchange Control Board, and then to the Federal Ministry of Finance. In 1946, he chaired the Royal Commission on Administrative Classifications in the Public Service.
In 1955-57, he chaired the Royal Commission on Canada's Economic Prospects, which expressed concern about growing foreign/US ownership in the Canadian economy, especially the resource sector. In 1962, he was elected to parliament under Prime Minister Lester Pearson, and became Minister of Finance and, subsequently, President of the Privy Council, overseeing the Watkins task force on the structure of Canadian industry. In 1965, he and his brother set up the Walter and Duncan Gordon Foundation dedicated to the development of sound and innovative public policies.
Although he left politics in 1968, he continued to argue for economic nationalism in a book entitled A Choice for Canada, and he and others formed the Committee for an Independent Canada, which helped stimulate the formation of the Canada Development Corporation. His ardent support of the New Nationalism movement in Canada led to stronger economic ties with Britain and a weakening of the Canadian/US economy at that time.
As a consultant, Gordon influenced and co-sponsored many Canadian institutions: the Canada Pension Plan, Medicare, Canada Assistance Plan, regional development programs, unemployment insurance and a government student loan program. In 1974, Gordon became Chancellor of York University. In 1976, he was made a Companion of the Order of Canada, and, in 1977, he published his political memoirs. The Walter Gordon Fellowship is presented by York University in honour of its former Chancellor.
Plaque inscription:
Senior financial advisor to Canadian Government, Finance Minister and proponent of economic nationalism, Canada Pension Plan, Medicare, and other social programs.