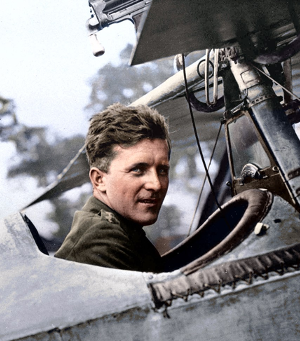 1894 - 1956
At the beginning of WWI, in his 3rd year at RMC, Bishop left the College to join the Army. In England, he transferred to the Royal Flying Corps, and trained first as an observer and then as a pilot. In France, between the Spring of 1917 and the Summer of 1918, "Billy" Bishop was credited with 72 air victories, and became Canada's official "war hero," having won the DSO and the VC, to which was added the DFC, Légion d'honneur and Croix de guerre. He was promoted to Major in charge of No 85 Squadron, "the Flying Foxes."
That summer, in an attempt to shelter him prior to the War's end - pilot life expectancy was 11 days - he was promoted to Lieutenant-Colonel as Officer Commanding-designate of the Canadian Air Force Section of the General Staff, and assigned to organize the new Canadian Flying Corps. Previously, he had been assigned to the British War Mission in Washington, DC to help the Americans build an air force. During this assignment, he also wrote his autobiography, Winged Warfare.
Bishop worked in the aviation industry in Canada and Britain between the wars and, in 1938, he was made Honorary Air Marshal of the RCAF, in charge of recruitment. He created a system for training pilots across Canada, and became instrumental in setting up the British Commonwealth Air Training Plan, which trained over 130,000 airmen in WWII. During the war, he also starred as himself in Captains of the Clouds, a Hollywood tribute to the RCAF. He was made a Companion of the Order of the Bath in 1944. After the war, Bishop's efforts to establish organization in the burgeoning field of aviation led to the formation of the International Civil Aviation Organization (ICAO). His second book, Winged Peace, advocated international control of global air power.
Plaque inscription:
WWI flying ace and war hero, pioneer of the RCAF, British Commonwealth Air Training Plan and International Civil Aviation Organization.