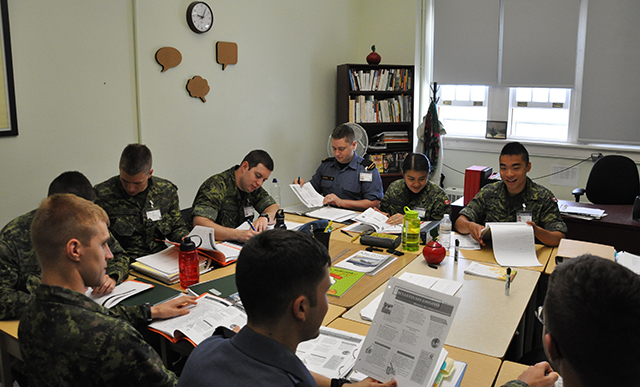 By Officer Cadet Devon Wray
Several RMC cadets are currently undergoing Second Language Courses being taught at the Royal Military College of Canada. The classes will last for the majority of the summer and are intended to help cadets attain the necessary BBB language level prior to their graduation.
From May 27 until August 4 2013, many cadets will spend their days studiously working on their French language skills. All cadets are required to achieve a B level for their speaking, writing, and reading skills in their second language which is the requirement as directed by current Canadian Forces policies. Upon the successful achievement of the language standard, cadets attain the coveted AFAN qualification which will separate them from other candidates for future rank progression. Attaining BBB also means that cadets are not required to take second language courses throughout the academic year. For engineers, this can be a tremendous help as an additional five hours a week for studying can mean the difference between pass and fail of an academic core course.
From 8 a.m. to 4 p.m. each day, cadets are completely immersed in a French-speaking environment to help learn their second language. The classes focus primarily on new vocabulary, grammar, and speaking presentations. From time to time these teaching methods are swapped with French film and class discussions which add a new layer of learning. In past years, some classes were allowed to take a 1-5 day trip to Quebec in order to allow cadets to practice their French in restaurants, shops, and museum settings.
"I'm very happy to be taking SLT courses this summer, "said Officer Cadet Lisa Choi, a 4th year from 9 Squadron. "For me, neither French nor English is my first language so I understand how hard it can be to learn multiple languages," Choi said. "A summer of SLT will help me greatly to achieve BBB," she added.
"It's much easier to learn another language when you are immersed in it all day long versus just an hour each day."
Some cadets head to Saint-Jean sur Richelieu, Quebec, instead of Kingston for their second language training. When the course is over, cadets are allowed to take the necessary public functions exams, provided they have reached a sufficient level of skill in their second language. Reading and writing exams are done on the computer under supervision whereas oral tests are conducted by telephone with civilian instructors. This summer, second language training wraps up in early August culminating in final testing.