Khwe, Aaniin, Bonjour, Hello!
About the Indigenous Knowledge and Learning Working Group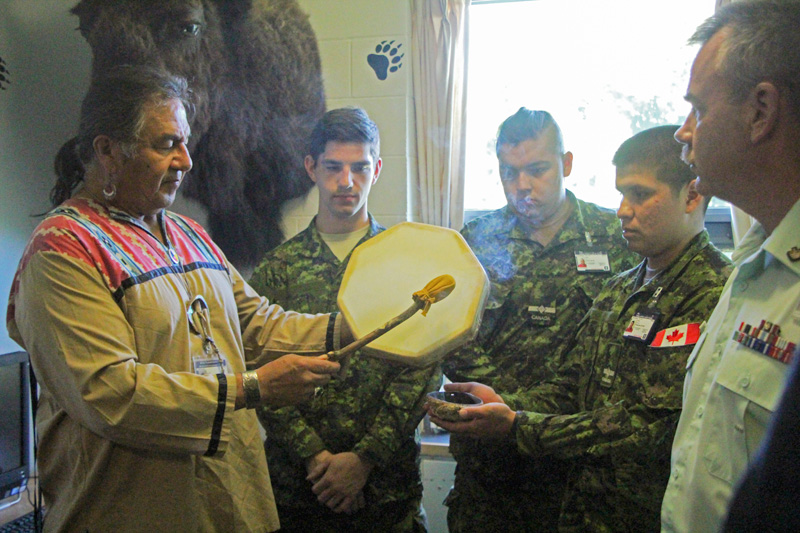 The IKLWG is a core advisory group of committed military and civilian professionals and students who share a common interest in advancing RMC's diversity and inclusion efforts. The mission of the IKLWG is to explore culturally appropriate and innovative approaches to increasing Indigenous awareness and inclusion at RMC. This is achieved by co-developing initiatives with Indigenous stakeholders, inspired by the Truth and Reconciliation Commission's 94 Calls to Action.
The IKLWG is co-chaired by an Indigenous and a non-Indigenous community member. The non-Indigenous co-chair is Stéphanie Chouinard, a settler-scholar from the Department of Political Science at RMC. The Indigenous co-chair is temporarily vacant.  Since the inception of the IKLWG in 2016, the working group has examined and identified 4 key areas of interest: (1) Indigenous relations and Truth and Reconciliation at RMC, (2) external Indigenous community engagement, (3) Indigenous curricula development, and (4) enhanced programs and service models to better serve the cultural needs of Indigenous students.
IKLWG Priorities
The IKLWG supports reconciliation by striving to change mindsets, policies, and practices at RMC. We have a three-year plan, with the first two years focused on communication and the third year focused on increasing Indigenous faculty and staff and creating community partnerships.
The focus on Indigenous initiatives and decolonization practices in academic institutions across the country is a national priority. Of particular interest to IKLWG is the implementation of the Truth and Reconciliation (TRC) 94 Calls to Action. Article 10 of the TRC Calls to Action on Education includes the following recommendations:
To respect and honour treaty relationships;
To improve education attainment levels and success rates for Indigenous peoples;
To develop culturally appropriate curricula;
To protect the right to Indigenous languages including the teaching of Indigenous languages as credit courses.
What We Do  
On the peninsula on which RMC sits, within traditional Anishinaabe and Haudenosaunee territory, the IKLWG gathers. Not all rooms at the college have windows from which to see the campus but, if we had a window to look from, we would see a landscape rich with signs of tradition related to military life. Something the IKLWG intends to do is further enrich the campus's landscape of symbols with visual recognition of the diversity of Indigenous cultures on campus. RMC is a national institution, and its student population includes individuals from many Indigenous nations across Turtle Island. One of our projects is the creation (ongoing) of a cultural space on campus to serve these diverse individuals.
In the big circle, we sometimes go counter-clockwise, as per the Haudenosaunee tradition, and sometimes clockwise, as per the Anishinaabe tradition. We check in about ourselves before we turn to the work we've done or will do. Though the members of our group tend to share a feeling of being busy with our many responsibilities, we bring different sorts of experiences and skills to the group. Our discussions situate us within the relational space of the institution, with all of us bringing different knowledges of protocols and possibilities to the conversation.
The big circle is for sharing. We also meet in sub-groups oriented to achieving specific tasks. Right now, you, reading these words, are participating in one of our initiatives: this web page. We are working on communication and relationship building both internally and externally. These goals are part of a wider aim to create a campus more inclusive of Indigenous voices and knowledges. The IKLWG seeks to shape RMC as a welcoming and fulfilling institution for Indigenous peoples and to communicate who we are to Indigenous peoples aspiring to be future leaders within the Canadian Armed Forces.
A common misconception of the IKLWG is that its mandate only reflects the activities of the Indigenous Leadership Opportunity Year (ILOY) which RMC hosts. In fact, the vision and mission of the working group is all encompassing within RMC, and by extension, the entire DND/CAF community. The priorities of the IKLWG are to
Support and recognize Indigenous students and their contributions at RMC;
Improve or enhance Indigenous-inspired content in the RMC curriculum;
Build an external network of Indigenous knowledge holders and experts who become cultural assets for Indigenous students, faculty and staff at RMC.
Right now, the IKLWG focuses its intention on the future: we are making a space for good work to come. RMC has now hired a Director of Indigenous Learning and Knowledge, M. Paul Chaput, and our primary intent is to make sure that he can rely on a stable network of engaged people to help with the development of his role. One person can't do all the work alone, especially when this person arrives into a newly made position. Institutions are built and sustained by their practices, and a new position will need to disrupt some of what is set. Currently, we are mostly non-Indigenous faculty and staff. As the lead Indigenous relations advisory group at RMC, the IKLWG acknowledges that it must increase Indigenous representation to better reflect Indigenous perspectives. We will support the initiatives that the Director will develop.