Reflections of an outstanding female cadet
By Officer Cadet Mallory Litjens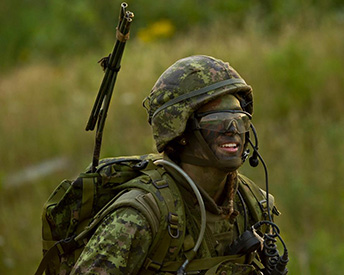 OCdt Mallory Litjens operates the radio as part of a training exercise at CFB Gagetown in July of 2012.
Every year on March 8th, thousands of events are organised around the world to celebrate and inspire womankind by promoting their achievements and progress across history.
Today, there are about 10,000 women who serve in the Canadian forces, be it in the regular force or the reserves. Women have served in the Canadian army for over 100 years, but it is only recently that we have seen them serve across all military trades, including the combat arms.
I deem myself lucky to live in a country which has the reputation of being a leader in the diversity and equity of employment. It is thanks to egalitarian movements which have taken place in the past that I have been able to obtain a job within the Canadian armed forces and that I have been given the opportunity to study at the Royal Military College of Canada.
Thus, in this international women's day, I find myself appreciative of the equality movements that women before I have done in the Canadian forces and RMC. Without the battles, sacrifices, and efforts of the women who have preceded me 25 years ago, I would not have all the opportunities that I have been presented during my time at RMC.
A lot of progress has been done at RMC since 1980, the first year that women were accepted at the college. Personally, my experience at RMC has been very positive, and I have always felt myself being treated as equal to the men. At RMC I study civil engineering, a degree which was previously restricted only to men. Furthermore, I have the senior leadership position of cadet squadron leader (CSL), a position which demonstrates clearly that I have equal footing which all men at the college.
Today, I would like to encourage all women in the Canadian forces, notably the officer cadets, to reflect upon all the progress that has been accomplished in the past and to appreciate the actions that our predecessors have done in order to allow us to be where we are today.