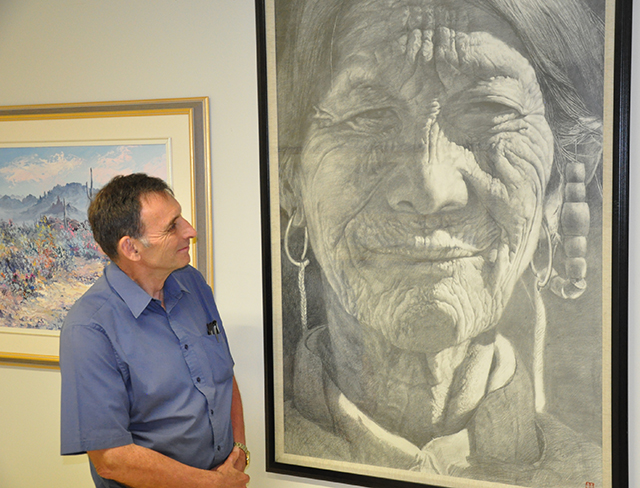 RMC Museum Curator Ross McKenzie oversees the hanging of the Van Haastrecht collection which now graces the halls of the Royal Military College of Canada. Featured in the photo is a unique, large portrait of an aboriginal woman. The museum is home to a spectacular collection of art as well as artifacts housed in the Martello Tower on the peninsula of historic Point Frederick.
RMC has recently received the John P. Van Haastrecht art collection. The art is part of a $1.45 million donation by ex-cadet John Van Haastrecht in October 2011 and is located around the college in the Mackenzie building, senior staff mess, and Hewett house. The art was donated in order for the ex- cadet to give back to the institution which led to his success and instill in the college an appreciation of Canadian art.
On reunion weekend 2011, RMC was blessed with a donation valued at 1.45 million by ex-cadet 7076 John P. Van Haastrecht. The ex-cadet, an RMC graduate of applied science in 1966, served his military commitment in the Royal Canadian Navy Air Arm. He later left the military in order to foster a career in real estate. After accumulating great success in his real estate career he felt the need to give back to RMC, the institution he accredits with instilling in him the traits necessary for his life's success.
The donation consists of a collection of art, comprised of 69 works by 13 Canadian artists and one Chinese artist valued at $450,000. An additional 1 million was donated to help in the establishment of a New Learning Center (NLC). Mr. Ross McKenzie, head of the RMC museum, states that the "collection of paintings was intended for display in the new building and his donation of money was intended to support the 'enhancement' of this new facility." The NLC was supposed to have replaced the aging Massey Library at RMC but budget cuts in recent years has meant that the money will now go towards renovation and expansion of the current Massey library.
The art arrived at the college at the end of March. Originally it was supposed to be located within the NLC but has instead been displayed in the Mackenzie building, senior staff mess, and Hewett house. Mr. Ross McKenzie notes that "The current display option is one of expediency- not necessarily a permanent allocation. Should a new Library/Learning Centre ever be built for the College the collection could be relocated."