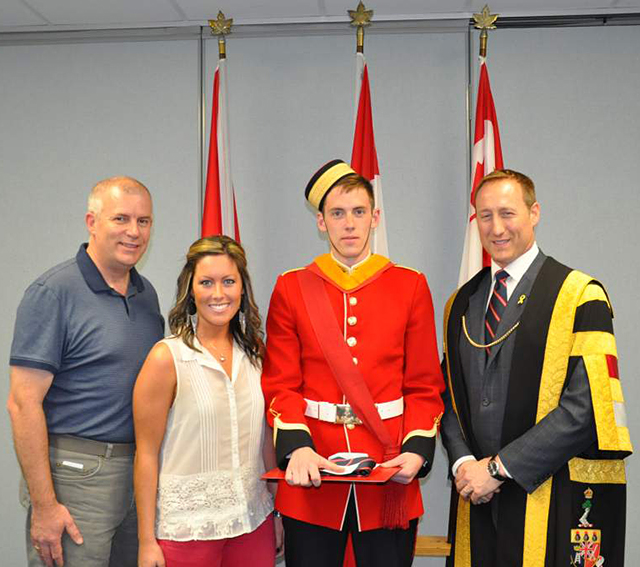 Acting Sub-Lieutenant Colin Shannon proudly poses with his father Brian, his sister Laura and the Honourable Peter MacKay, Minister of Defence. Acting Sub-Lieutenant Shannon's mom Bernadette watched his graduation through a Skype connection and exchanged a few happy words with the MND. The Shannon family is from New Glasgow, Nova Scotia.
By Capt Yvette Grygoryev
A graduation and commissioning from the Royal Military College of Canada is a time of excitement and high emotion for cadets who are reaching the end of their studies.
It should be a happy time full of relief and joy, but Acting Sub-Lieutenant Colin Shannon was faced with a sad fact. Although his dad Brian and sister Laura would be at his graduation, his mom Bernadette suffering from cancer, was too ill to come.
When Shannon's training staff at RMC became aware of this challenge, they mobilized and activated a plan to have the family connected through any means possible. In the end, Skype was the fastest and easiest choice.
Despite his personal heartache, Acting Sub-Lieutenant Colin Shannon has more than made the grade. The avid runner graduated last week with a 91 per cent average, and was awarded The Professional Engineers of Ontario Gold Medal for Academic Achievement.
Through modern technology, Bernadette was able to watch her son accept his degree and see him shake the hand of the Minister.
What they didn't expect, was that word of the plight of the Shannon family would reach The Honourable Peter McKay, Minister of Defence and Chancellor of RMC. Even more surreal was to see the MND smiling warmly and chatting to Bernadette congratulating the family personally through a small laptop connected on Skype and surrounded by a crowd of happy grads.
Colin, his dad, and his sister were clearly moved by the gesture.
"These are difficult times and it's truly uplifting to experience the good that people are capable of," Shannon said.
"It really made a difference and I know it was my Mom's best day in months," he said.