The 104th (New Brunswick) Regiment of Foot in the War of 1812, by Major John R. Grodzinski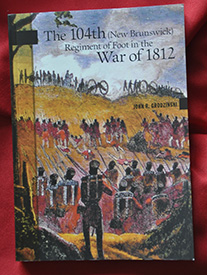 In addition to teaching cadets, many teachers at the Royal Military College of Canada research and write books in their spare time. Major John R Grodzinski, a history professor at the college, has spent the past year and a half researching and writing his new book, The 104th (New Brunswick) Regiment of Foot in the War of 1812, scheduled to for release in July 2014.
Major Grodzinski's research and writing focuses primarily on the War of 1812 and how it contributed to Britain's global cause. Originally captivated by the Napoleonic Wars, Grodzinski found a book in the 1990s that caught his attention and brought his focus to the War of 1812. In 2007, Major Grodzinski published a book, Defender of Canada: Sir George Prevost and the War of 1812, about Sir George Prevost, the governor in chief of British North America and the credit he deserved for the successful defense of Canada. The books that he writes are about subjects that interest him, as well as subjects that do not already have a lot written about them. He writes to contribute to the telling of history as a whole and to fill a gap in the stories of Canada.
His new book, The 104th (New Brunswick) Regiment of Foot in the War of 1812, showcases the 104th (New Brunswick) Regiment of Foot in the British Army, their winter march from Fredericton to Kingston and its impact on the rest of the war. Prior to Major Grodzinski's book, there was only one published book about this regiment and it is from the 1960s. In addition to contributing to the history of the war by writing this book, Major Grodzinski is also commemorating the bicentennial of the war. The book looks at all aspects of the regiment, from their home lives to their battles, and takes opposing views from papers previously written.
Major John R. Grodzinski joined the Canadian Forces in 1983 with his home regiment being Lord Strathcona's Horse (Royal Canadians). Over the years, he worked in Edmonton, Winnipeg, Halifax and Kingston. He was the Managing Editor of The Army Doctrine and Training Bulletin (now the Canadian Army Journal) for six years. Returning to school, Major Grodzinski completed his Masters of Arts in War Studies at RMC in 2002 and his doctorate in the RMC War Studies programme in 2010. He has been teaching at RMC since 2004 and teaches history courses at all levels. Major Grodzinski's favourite classes to teach are HIE345: The Canadian Way of War and HIE422: Naval History. The Age of Sail.
After writing two books and being in the processes of writing a new one, Major Grodzinski offers the following advice for anyone that wishes to write: "expect hard work, but if you pick something you are interested in, it will be fun".