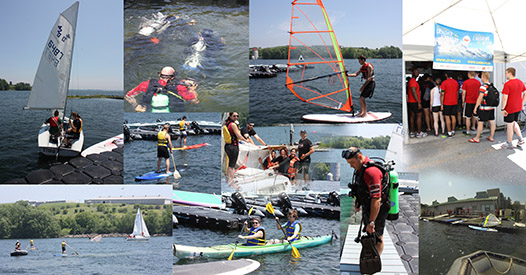 As part of the "June is Recreation Month", the RMC Recreation Clubs hosted an open house on Wednesday June 26th at the RMC Boathouse to give staff and students a chance to try a variety of aquatic activities that our clubs offer. With a great turn-out for the afternoon, participants took part in Scuba diving, windsurfing, paddle boarding, tubing, sailing and also had a chance to take out some canoes and kayaks for a paddle.
Good music, tasty chilli, and warm weather created a great atmosphere for kicking off the summer and now the water-based RMC Clubs are in full operation until fall. For more information about any of the RMC Clubs feel free to contact the Recreation Coordinator, Craig Palmer (craig.palmer@rmc.ca or 613-541-6000 ext. 8738).
Sincere thanks to Explorer Diving and all the other volunteers that made this event a great success!