While the format of the weekend was adjusted in 2022 to align with the Government of Canada's approach to respect the passing of HRH (i.e., no events on Sunday), we are sustaining this approach this year in alignment with CDS/DM Directive for CAF Reconstitution of Oct '22, and the CDA Operating Plan FY 23-24 of May '23, which will see the Memorial Arch Parade occur on Saturday immediately following the Badging Parade before the remainder of Alumni Association activities take place on and off campus. This will give family of our new first-year cadets an opportunity to spend more quality time together before they return home.
Obstacle Course and Coin Ceremony (Friday, September 15, 2023, from 1 to 6:30 p.m.)
Our first-year cadets will conclude their orientation program with the challenging 13-obstacle course demonstrating the esprit-de-corps and teamwork that has been instilled in them throughout orientation. Upon completion of the Obstacle Course, they will receive their coin from members of the 'Old Brigade'.
Badging Parade (Saturday, September 16, 2023, from 9 to 11 a.m.)
The efforts and resolve demonstrated by our N/OCdts completing the challenging obstacle course will be recognized during the Badging Parade. The presentation of RMC cap badges to every first-year cadets on parade by members of the 'Old Brigade' and College Staff will signify the Class of 2027's admittance to the Cadet Wing of RMC. In case of inclement weather, the parade will take place indoors at the Kingston Military Community Sports Centre's Anderson Field House, Building 65, 1 Navy Way, CFB Kingston.
Memorial Arch Parade (Saturday, September 16, 2023, from 11 a.m. to 12:30 p.m.)
This event, followed by the Wall of Honour Ceremony, serves as a tradition that fosters bonds between current and former RMC cadets. It is scheduled to start with the parade formation taking place on the parade square followed by a memorial service at the Memorial Arch, immediately after the conclusion of the Badging Parade.
Wall of Honour Ceremony (Saturday, September 16, 2023, from 2:30 to 4 p.m.).
This event recognizes former cadets and other distinguished individuals associated with the Canadian Military Colleges for outstanding achievements and contributions to Canada and the world. The Honourees this year are Honourary Colonel Lawrence Napier 'Larry' Stevenson; and the late Major George Chisholm Baker and Captain (Navy) James Franklin Carruthers. In case of inclement weather, the event will take place in Historic Currie Hall.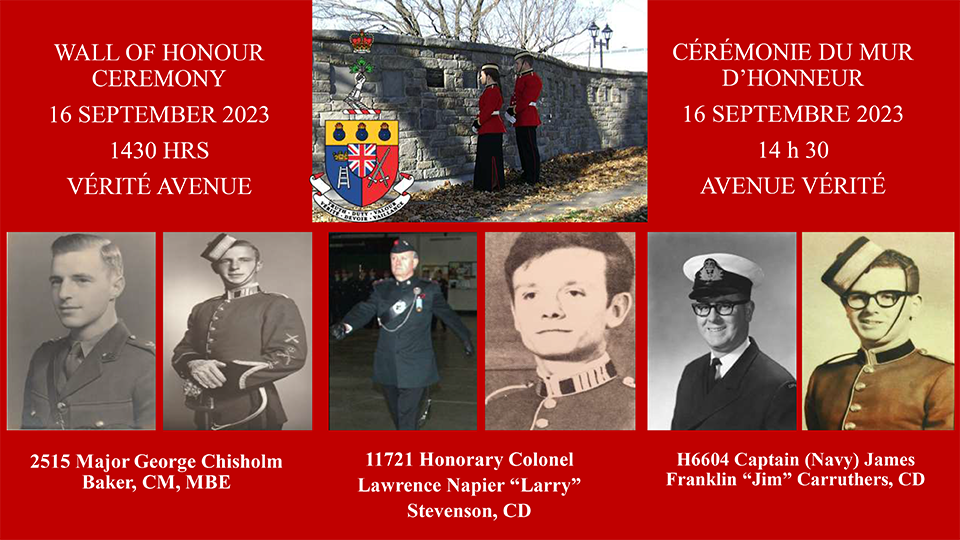 2515 Major George Chisholm Baker, CM, MBE
1918 – 2013
George Baker was raised in Kentville, NS, which he called home for the rest of his life. As a youth, he was immersed in the scouting movement, becoming a King's Scout, and was selected to attend the 1933 World Scout Jamboree in Hungary. He was also a militiaman with the King's Canadian Hussars. He entered RMC in 1936 with a class that would graduate early in 1939, due to the wartime closure of the college. He excelled in maths and sciences and held supervisory roles in each year. In his Third Year, Baker excelled in the annual College rifle and pistol match, achieving the highest individual score while he also received the Lieutenant Governor's Medal for the strongest academics. He was commissioned in 1939, joined the Royal Canadian Corps of Signals and deployed to England in 1940.
There, Baker carried out telephone line construction, then in 1942 transferred to wireless operations. He rose quickly through the ranks, was promoted to Major, commanded a signals company and was appointed in 1943 as Senior Advisor Wireless to the Chief Signals Office. He was appointed in 1945 as a Member of the Most Excellent Order of the British Empire for planning and implementing the signals portion of the D-Day deception plan and for subsequent management of communications for the Canadian Army's advance eastward.
Upon returning to Canada, Baker was discharged in 1945. He then studied Electrical Engineering at the University of Toronto and earned a Bachelor of Arts and Science degree in 1946. He was employed for one year as an engineer with the Canadian General Electric Company, but in 1948 he returned to his hometown and assumed ownership of the family business, the Kentville Publishing Company. During more than thirty years at the helm as Owner and President, he modernized equipment and processes, expanded operations, and tripled the number of employees. He became President of the Canadian Newspaper Association in the late 1950s.
Throughout the 1960s and 1970s, Baker worked in the field of electrical technology as an engineer, consultant, or manager with two companies. He was the Vice-Chairman of the Nova Scotia Medical Care Insurance Commission, with which he established the provincial medical services insurance program.
Living in proximity to the Bay of Fundy, Baker became convinced that the tides of the Minas Basin should be able to supply significant electric power for the economy's needs. In 1972, he began realizing his dreams when he prompted the Nova Scotia government to launch such an endeavour. He was invited to join what became known as the Tidal Power Review Board Engineering and Management Committee to study of the economic, social, and environmental consequences of power development in the Bay. He eventually became Vice-President of the Nova Scotia Tidal Power Corporation, responsible for the design and construction in 1982 of the Annapolis Royal Tidal Power Station.
For his vision in creating the first tidal power station in North America, Baker was invested in 2000 as a Member of the Order of Canada. His citation states that the facility at Annapolis Royal established Canada as an innovator in the harvesting of alternative energy sources.
After leaving the Corporation in 1989, he remained active in the field and developed an international reputation as a tidal power expert, advising the World Energy Council on the availability of renewable energy sources.
For his achievements in the worlds of business and technology, Baker was made an Honorary Doctor of Engineering by RMC in 1988, an Honorary Doctor of Engineering by the Technical University of Nova Scotia in 1986 and an Honorary Doctor of Civil Law by Acadia University in 1993. In 1994, during a special convocation at RMC, Baker, along with other former cadets whose studies were shortened during wartime, was awarded a Bachelor of Military Science.
Baker was a Professional Engineer, a Fellow of the Engineering Institute of Canada, a Fellow of the Canadian Academy of Engineering, and a recipient of the Institute of Electrical and Electronic Engineers Centennial Gold Medal.
He was an avid hunter, fisherman and sailor all his life. A championship marksman, he began his competitive shooting career in 1936 at the provincial and national championships. In 1946, he won the Nova Scotia Grand Aggregate Award and the Governor General's Match, which qualified him to represent Canada for the British Empire shooting competitions at Bisley.
Plaque Inscription: Planner, Engineer, Publisher, Visionary
11721 Honorary Colonel Lawrence Napier "Larry" Stevenson, CD
1956 - 
Larry Stevenson spent his first 14 years in Chibougamau, QC.  Possessed of an adventurous spirit that would serve him well in later life; he learned to fly from his father, landing his first float plane solo at the age of 12.
Stevenson entered Preparatory Year at CMR Saint-Jean in 1973 and excelled in the military college environment.  He was a superb athlete and a strong debater.  He finished first on his Basic Officer Training course and consistently topped his occupational training courses.  In fourth year, he finished first in his Class in Honours Economics and Commerce and won the medal for the top standing in the Arts program at RMC.  He was First Term and Honour Slate Cadet Wing Commander and was awarded the Sword of Honour.
After graduation in 1978, Stevenson joined the 3rd Battalion, Princess Patricia's Canadian Light Infantry as a platoon commander.  He was later posted to the Canadian Airborne Regiment.  During this time, he served on two peacekeeping tours in Cyprus.  In 1982, he left the Canadian Forces as a Captain to attend Harvard University.
A Harvard MBA led to a position at the prestigious international management consulting firm Bain and Company in London, England.  In 1989, he founded Bain & Company Canada as the Managing Partner, leading it to the fastest growth of any Bain office worldwide.
Stevenson left Bain and Company to embark as a hands-on entrepreneur in Canada; first buying SmithBooks, then merging it with Coles to form Chapters Inc.  He grew the business from $150 million to $700 million and in 1995 he was named one of "Canada's Top Forty Under Forty". He was chosen Innovative Retailer of the Year in 2000 by the Retail Council of Canada before eventually selling the company in 2001.
Not content with that success, Stevenson became CEO of Pep Boys in Philadelphia, PA, a $2 billion automotive service company in need of an overhaul.  In his three years as CEO, he dramatically increased the levels of in-store service and increased its stock prices by over 60 percent.
In 2015, amid a serious bribery and ethics scandal, he was appointed Chairman of the Board and President of SNC Lavalin. He overhauled the executive management team and the Board, enhanced compliance and navigated the company through numerous legal and regulatory issues. He left SNC Lavalin in 2017 and is currently the Managing Director of Clearspring Capital Partners, a private equity firm with offices in Toronto and Montreal.
Stevenson has given back to the community by serving on not-for-profit Boards such as for Frontier College, which combats illiteracy in Canada, the Bishop Strachan School, the Stratford Festival, and the Shaw Festival.  He has written for numerous newspapers and business magazines and co-authored the best-selling business book, Power Retail.  Over the past 20 years, he has served on the Boards of Directors of some of Canada's largest and most successful companies including CAE, Oshawa Foods, Forzani, and Sobeys.  He has also served as the Chairman of the Retail Council of Canada.
Outside of business, Stevenson's not-for-profit focus has been on the military. As the CEO of Pep Boys, he raised hundreds of thousands of dollars to send spouses and families of deployed military partners to a summer camp in Colorado.  In Canada he was a member of the "True Patriot Love" team that summitted Mount Vinson in Antarctica in 2017 and raised over $2.3 million for wounded Canadian soldiers.  He served four years as the Honorary Colonel of the Queens Own Rifles of Canada and continues to serve on the Senate of that organization.  In cooperation with Western's Ivey Business School, he has developed a for-credit leadership course that is taught by retired combat veterans.  Stevenson was ultimately awarded an Honorary Doctorate of Laws by RMC in 2010.
Stevenson was an excellent military college cadet and army officer who has become an outstanding business leader and inspiration to many, well deserved of the numerous accolades and enormous respect that has come his way.
Plaque Inscription:  Soldier, Entrepreneur, Business Leader
H6604 Captain (Navy) James Franklin "Jim" Carruthers, CD
1943 – 2021
Jim Carruthers was born in Drumheller, AB, and spent his youth in neighbouring communities.  He was involved in the Scouting movement and developed an early interest in photography that would remain a life-long passion.  He left home in 1961 to attend Canadian Services College Royal Roads.  From the start he was keenly interested in pursuing electrical engineering and was also involved with the College yearbook and the band.  Attending RMC from 1963 to 1965, he maintained his academic trajectory while becoming active with the Institute of Electronics and Electrical Engineers (IEEE) as Vice-President of the RMC student branch. 
Carruthers graduated from RMC in 1965 with a bachelor's degree in Electrical Engineering and was commissioned into the RCN as a Sub-Lieutenant.  On completion of training, he was assigned to HMCS Gatineau to hone his practical engineering skills at sea.  Later, after gaining experience with sonar, missile and data systems on HMCS Terra Nova, he decided to further his formal education and, in 1971, commenced graduate studies at the Nova Scotia Technical College where he received his PhD in Electrical Engineering.  During a subsequent posting to NDHQ in 1974, combining his technical skills and academic knowledge, he first began to espouse a revolutionary approach to systems integration in warships.  After a year on the Canadian Forces Command and Staff Course, he took his visionary concept to the next level and became the driving force and champion behind the development and introduction of the Shipboard Integrated Processing and Data System (SHINPADS).  SHINPADS was a distributed digital systems approach to ship integration which provided redundancy and survivability at reduced life-cycle cost and remains a prevailing design used in warships of the RCN and other major navies of the world. 
Carruthers retired from the Navy in 1982 and went to work for Norpak Corporation, a small Ottawa-based electronics firm that was on the verge of bankruptcy.  He was soon appointed CEO and through hard work and expertise, he managed to dramatically turn around the fortunes of the company.  Under his leadership, the enterprise became, and remains (under a different name), a recognized international centre of excellence for television closed captioning technology.  He left Norpak in 2006 to begin a new life advocating in support of two institutions close to his heart: RMC and the RCN.
Carruthers was a strong supporter of RMC, and the RMC Foundation in particular.  In 2001 he gifted a substantial endowment to the Foundation.  His generosity and example were instrumental in the RMC Class of '65 becoming one of the most active and generous graduating classes. Through his leadership and active involvement, his Class established three highly successful award programs: the Teaching Excellence Awards at RMC and at RMC Saint-Jean; and the Professor in Leadership Program at RMC.  He served as President of the Foundation in 2015/2016.  Generously, Carruthers personally provided funding to the RMC Rowing Club to buy three new boats and annually purchased and presented swords for the top naval cadets in the graduating class. From 2001 to 2012, he provided yearly scholarships for four Reserve Entry Training Plan cadets and funding assistance to new cadets from his hometown of Drumheller. In recognition of his generosity and outstanding support to the military colleges, the RMC Club made him an Honorary Life Member.
Early on, Carruthers recognized that a maritime nation like Canada needed to have an avenue for serious debate of naval issues, to be a recognized source for expert opinion on maritime matters and to be a strong advocate for the RCN.  He was personally instrumental in the creation of the Naval Association of Canada (NAC), an organization open to anyone with an interest in maritime issues, and he served as the first President from 2013 to 2017.
He worked tirelessly to establish a firm financial footing for the NAC which led to the launch of the annual Battle of the Atlantic Gala, held at the Canadian War Museum.  The legacy of his genius, vision and enterprise continues in today's NAC and has been crucial in helping to educate Canadians on the need for a capable and effective RCN.  In 2017 he was awarded the Admirals' Medal; bestowed upon individuals who foster the advancement of maritime/naval affairs in Canada.
Plaque Inscription:  Engineer, Visionary, Philanthropist