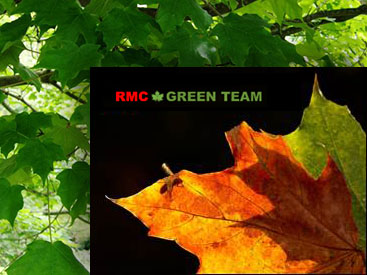 It is clearly evident that the status quo in terms of doing business within the Department of National Defence (DND) and the Canadian Armed Forces (CAF) is no longer an option. All Federal Departments are being asked to optimize their processes and to determine the best way forward in terms of maintaining their aim and conducting their activities / operations. Within DND, there has been some reliance on external consultants. This reality has been documented within DND and the media:
"$2.7 billion spent annually on contractors and consultants"

retired Lieutenant-General Andrew Leslie (2011)
"$3.2 billion in 2011-12 and may be climbing"

government financial estimates, Honourable Peter MacKay (2012)
To this end, there are efficiencies that can definitely be made by looking internally in order to find the resources and expertise needed to ensure DND is able to respond to environmental needs and requirements. The Royal Military College (RMC) Green Team has been providing expert advice and conducting Environmental and Infrastructure projects for DND (and other federal agencies) for almost a decade now.
RMC Green Team serves to marry up the resources and expertise at RMC (and associated networks) with the very real needs and requirements of the CAF, DND and other Federal Government agencies. RMC Green Team provides the Canadian Armed Forces and DND with expert solutions, with excellent results, in a timely manner. The team works with the sponsor for every step of the project in order to ensure results are specifically tailored to the organization's needs. The RMC Green Team fills a unique need within DND for not only their technical expertise, but their distinctive, overarching operational method that incorporates a research-based approach of monitoring, assessment, data interpretation and an optimization of management, administration, operations and maintenance (at all levels).
The team is also multi-disciplinary and brings together a variety of subject matter experts from an assortment of fields in order to solve complex issues and problems. These specialists have access and are able to utilise resources and facilities among three academic institutions in Kingston, Ontario (Royal Military College, Queen's University and St. Lawrence College) in addition to their industrial and professional contacts.
The group has worked at over 90 locations across Canada and has won multiple awards; of note is their awarding of a prestigious Deputy Minister / Chief of Defence Staff Innovation Award. The award was given to the Team's Director and Founder, Dr. Nicholas Vlachopoulos for "his leadership and contributions in the areas of energy efficiency, water treatment and waste management." Selected, recent projects that have been undertaken by the RMC Green Team include:
Environmental Study and Waste Audit - Polar Continental Shelf Project for Natural Resources Canada at Resolute Bay, Nunavut;
Environmental Baseline Studies for mostly all of the Air Force Wings in Canada;
Heavy Metals Assessment at over 60 Small Arms Ranges - Canadian Army
Risk Assessment;
Land Forces (Army) Wide Well Management Risk Assessment (12 Army Bases) - Canadian Army;
Assessment of the Performance of Green Buildings in the CAF;
Green Energy Solutions - Infrastructure at 8 Wing Trenton;
Environmental Management Systems Creation and Development - Canadian Defence Academy;
State-of-the-Art Infrastructure Sustainable Development Technological Review(s);
GIS and Terrain Analysis for Military Operational Assessment of Mobility - Defence R & D Canada;
Policy Support and Implementation (i.e. SOPs, Tank Management Plans); and,
Distance Education, Training and Program & Course Development.
The RMC Green team has created and maintained a rich and comprehensive database that includes lessons learned from their Canada-wide programs. This database can prove to be a substantial resource for DND in order to streamline processes, avoid duplication of efforts and maintain an internal source of relevant data.
Consider approaching the RMC Green Team in order to determine if they can help support your organizational and operational aims.
Contact Information :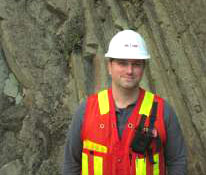 Dr. Nicholas Vlachopoulos, PhD, CD, PEng, PE(Gr)
Director, Royal Military College (RMC) Green Team
Department of Civil Engineering
Sawyer Building, Module 3, Room 2056
Kingston, Ontario Canada K7K 7B4
tel: +1 (613) 541-6000 ext. 6398
fax: +1 (613) 531-4928
email: vlachopoulos-n@rmc.ca
Web page: Dr. Nicholas Vlachopoulos, PhD, CD, PEng, PE(Gr)
Note that Dr. Nicholas Vlachopoulos is an Assistant Professor of Civil Engineering at RMC, is Cross-Appointed to Queen's University, a Research Director at the GeoEngineering Centre Queen's-RMC, and a retired Military/Combat Engineer Officer with 20+ yrs of honourable service.