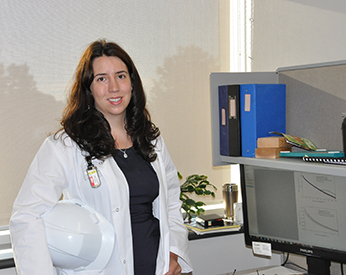 September 5, 2013
The Canadian Nuclear Safety Commission (CNSC) announced today that Ms. Madison Sellers has been awarded a CNSC-funded scholarship for a research project in the field of nuclear engineering, focusing on nuclear forensics analysis. Ms. Sellers is a doctoral student in the Department of Chemistry and Chemical Engineering at the Royal Military College of Canada in Kingston, Ontario. She will receive an annual scholarship of $35,000, for a maximum of three years.
The award is for a project that will examine and improve Canada's nuclear forensics analysis capabilities, through the development of new analytical techniques and research methods for special nuclear materials. The research will aim to improve a system for rapid and non-destructive characterization of special nuclear materials.
Nuclear forensics analysis is a developing discipline, which aims to identify and characterize nuclear materials or radioactive sources recovered from either the capture of unused materials, or from the detonation of a device containing radioactive isotopes. Work in this discipline also provides clues on and/or traces to back the origins of the materials or sources, to ultimately improve physical protection measures or diversions.
Collaborators for this project include the Royal Military College of Canada, Defence Research and Development Canada, the Department of National Defence, and the U.S.-based Los Alamos National Laboratory.
In celebrating its 65th anniversary in 2011, the CNSC established a doctoral scholarship to support students in pursuit of advancements in the nuclear field. The scholarship is awarded to one doctoral student from a pool of qualified candidates, and is associated with the Natural Sciences and Engineering Research Council of Canada's (NSERC) post-graduate scholarship competition. Eligible candidates must be of outstanding academic merit and in the process of conducting research related to the nuclear field, at a Canadian post-secondary institution.
The CNSC regulates the use of nuclear energy and materials to protect health, safety, security and the environment, and to implement Canada's international commitments on the peaceful use of nuclear energy.