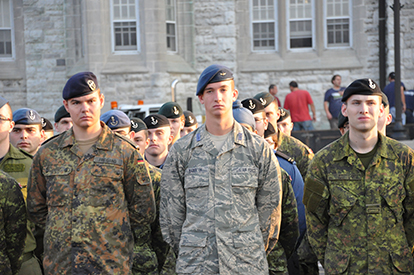 An American cadet stands with his Canadian peers at an early morning memorial parade for the victims of 9/11, held at the Royal Military College of Canada.
On September 11, 2013, the four divisions of officer cadets at the Royal Military College of Canada (RMC), together with the military wing staff, gathered on the parade ground to commemorate the tragic events that had occurred 12 years earlier.
On a beautiful summer day, September 11, 2001, the Twin Towers in New York and the Pentagon in Washington were struck by terrorists. Americans and others around the world have not forgotten the deep scars left by the attack.
Many men and women lost their lives in those devastating events. Others died while fighting to defend their country's rights and freedoms. September 11 will be forever etched in our collective memory, and on the anniversary this year we paused for a moment to honour all those men and women, as well as the families who suffered the loss of a loved one.
In the aftermath of the attacks, many firefighters, police officers and members of the military searched for people who might have been trapped in the rubble of the collapsed buildings. Our thoughts go out to them for the work they did in the service of their country.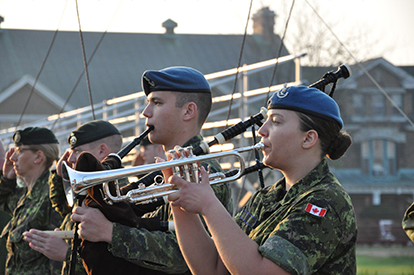 Officer Cadet Atwells bugles 'The Last Post' during the memorial parade held at the Royal Military College of Canada in memory of the victims who lost their lives during the deadly attack on the World Trade Centers in 2001.
Brigadier-General Meinzinger, the Commandant of RMC, also drew our attention to the Canadians who perished during the attacks of September 11, 2001.
The compassion of the officer cadets and the military wing staff was extended not only to the people who lost their lives in those events, but also to the military members-some of whom had been their colleagues, friends and companions-in-arms-who were casualties of the war on terrorism.
This September 11, RMC remembered.