By Maj Rob Moser, Army Technical Staff Officer Student, AMS RMC
The Students of the Army Technical Warrant Officer and the Army Technical Staff Officer Program from the Department of Applied Military Science (AMS) were fortunate to conduct two very interesting and valuable Field Study Trips (FST) in the last few months. On 29-30 October 13 we loaded onto a comfortable highway cruiser and headed out to CFB Trenton to visit the Aerospace and Telecommunications Engineering Support Squadron (ATESS), the Canadian Joint Immediate Response Unit (CJIRU), and the Canadian Forces Land Advanced Warfare Center (CFLAWC). The briefing and tour at ATESS provided us with a valuable perspective on the way that the Air force conducts testing, engineering, and evaluations. CJIRU gave us a glimpse behind their curtains and we gained some valuable information about their requirements when it comes to personnel and equipment. Finally, the visit to CFLAWC, and specifically their Airborne Trials and Evaluations Section, provided insight into how the CAF goes about testing and evaluating new airborne operations specific equipment.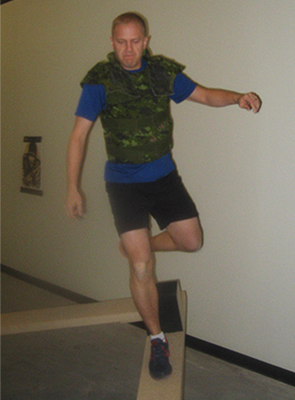 Capt Heath Bott navigates an obstacle as part of a trial run through the CANLEAP obstacle course.
After this quick exposure to some of the interesting things happening in Trenton we were off to Toronto to see the Defence Research and Development Canada facility located there. We were truly impressed with the scope and amount of very important research that is being done regarding soldier performance and human factors engineering. Of particular interest was the Canadian Load Effects Program (CANLEAP), a project focused on the effects of load bearing on soldier performance. This is truly fascinating research that will likely save lives and enable appropriate decision making regarding loads and levels of protection worn by our soldiers. Some of our personnel were able to participate in an obstacle course that simulated military operations and they were clearly challenged by the intensity and realistic nature of the tasks. DRDC Toronto also highlighted different simulator technologies, research into brain training, and physiological responses to exercise in very hot environments.
A few weeks later on 12-13 November 13 we visited Ottawa and Gatineau where we toured QETE, General Dynamics Canada (GDC), DRDC Ottawa, and the Canadian Forces Warfare Center (CFWC). Our visit to QETE highlighted and provided real-world examples of the theory we have been studying in our Military Communications course. GDC provided an excellent example of how the military and industry can effectively partner and work together towards solving defence problems. The defence scientists at DRDC Ottawa showed us some amazing technology, specifically the synthetic aperture radar, which shows the promise of being able to actually see through walls. Science fiction is quickly becoming fact. Finally, the CFWC described the challenges and benefits of Joint Operations and their importance both now and in the future.
Both of the above mentioned FSTs provided a great benefit to all students and provided vital context to our applied science program of study. They allowed us to gain additional contacts and resources to use in our future employment. We are moving though our program well and are moving closer to achieving the full AMS advantage every day.