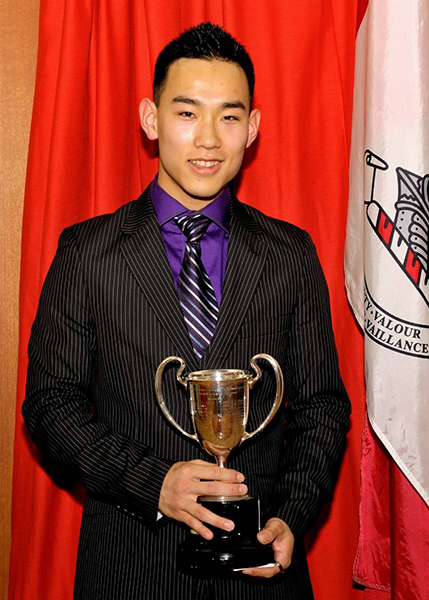 Song accepts an academic award for his studies in the Stability of Aqueous Pharmaceuticals Exposed to Gamma Radiation.
By Lt(N) Haley Mooney
Meet A/SLt Jae Song, the 2012 Canadian Armed Forces Male Athlete of the Year and a graduate and masters student at RMC. The well-spoken 21-year-old Korean-born Canadian hailing from Maple Ridge B.C. comes across as a quiet, studious young man. This attitude belies his cat-like agility, brilliant sense of strategy and the all-round athleticism he brings to the ring in world class Tae Kwon Do competitions.
When A/SLt Song joined RMC he was a newbie to the world of competitive Olympic-style Tae Kwon Do. Instead, he had studied the more traditional styles of the martial arts and focused more on competitive badminton.
"I did pretty well at badminton" he shrugs, which is certainly an understatement given Song's humble description of his other successes.
When pressed about his rise to CAF athletic fame, he casually lists off his achievements; Ontario University Champion, a finalist in the 2012 University Championship in Korea, and CAF National Taekwon Do gold medalist in 2012, as well as a close competitor for one of only three spots for the 2012 Summer Olympics.
He fails to mention that he was ranked 5th in Canada in the men's lightweight division in 2012, and was named RMC Male Athlete of the Year for his accomplishments.
"I've always been stronger in sports and general fitness," he offers. No kidding.
His coach, Joel Ridley gave a more in-depth look into Acting Sub-Lieutenant Song's character.
"He's extremely type A- he goes for it. He pushes himself hard and likes to succeed," explains Ridley. "He's never opposed to improving but just wants to know the reason why, and asks a lot of questions."
A/SLt Song brings a lot to the table as an officer in the CAF; a top athletic performer, he also earned accolades for his academic performances throughout his undergraduate degree, scoring the highest marks in Chemical Engineering with an overall average of 91 per cent. In his graduating year he walked away with multiple top awards in the academic, military and athletic pillars.
"I think RMC attracts this type-A sort of personality," says Ridley. "Cadets are highly motivated to succeed and there is a lot of support from the college in athletics. Tae Kwon Do naturally attracts that type of person as well- the hierarchy of the sport and the respect for ranks fits the military culture," Ridley also explained.
With this natural draw of highly motivated, driven young people, it's not surprising that RMC cadets have recently excelled in all types of athletics.
The men's varsity rugby team made the playoffs this year, and the women's varsity soccer team just missed them this year and made them last year- winning the OUA rookie of the year award for one of their players- OCdt Alex Hogg, a first for RMC women's soccer.
In the competitive clubs, the Sailing Club finished in 4th place at the CICSA Fleet Racing National Championships, while the Rowing Club Men's 4+ finished 2nd at the OUA Developmental Regatta in St. Catherines. The Running Club had three members finish in the top 10, and five of the top six in their age group at the Army Run in Ottawa and the RMC Triathlon Club had a podium winner, Michele Begin-Major, in both the Esprit Triathlon in Montreal, and the Hy-Vee Triathlon in Iowa this past summer.
In the last year RMC athletic stars have also shined in other athletic competitions. In the gruelling Ironman competition (a 50 km race which consists of running with a 40 lb rucksack, portaging with a canoe and canoeing) in Petawawa, Ontario, six of the top 20 finishers were RMC Cadets.
Then there's the RMC Tae Kwon Do Club. Members collected 1st place in black belt high performance and blue belt high performance sparring in both men's and women's categories at the Ontario team trials. At their other competition in Trois Riviere, all six competitors earned medals.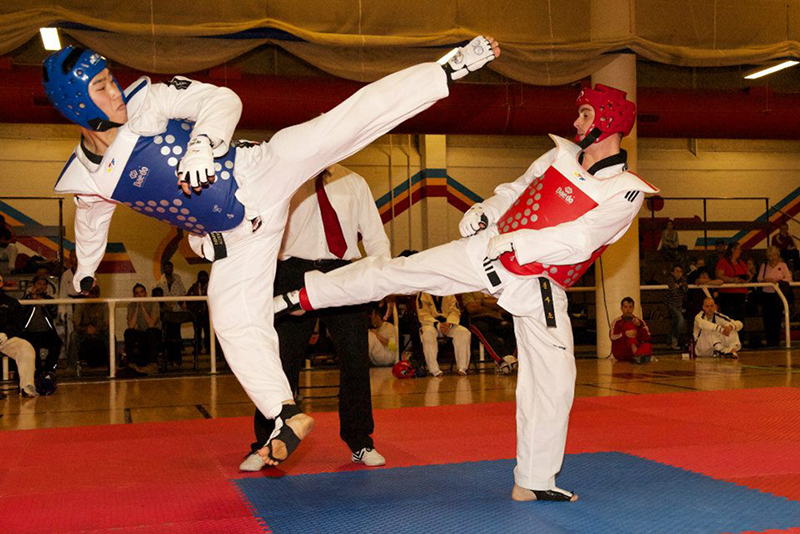 At the 2012 World University Taekwondo Championships in Pocheon, Korea A/SLt Song quarter final match was against Germany in the center Ring.
And of course, now there's the top male athlete in the CAF, A/SLt Jae Song.
"My thoughts about winning are that I am very honoured to receive the award," says A/SLt Song. "I need to start training harder to be worthy for it. I was a bit surprised, but I worked hard for it and will continue to do so."
It's hard to improve on top male athlete, but A/SLt Song plans on continuing his strong start in Tae Kwon Do for a long time.
"I will continue Tae Kwon Do throughout life," he predicts. "It keeps me on the edge like no other sport. It's a different kind of excitement and I'm addicted to it. I still see myself trying to improve."
This is a great attitude for a young officer starting out his career at a Marine Systems Engineer in the Navy. We'll have to keep an eye out for him in competitions in the future.