Colonel C.A. Heilman, CD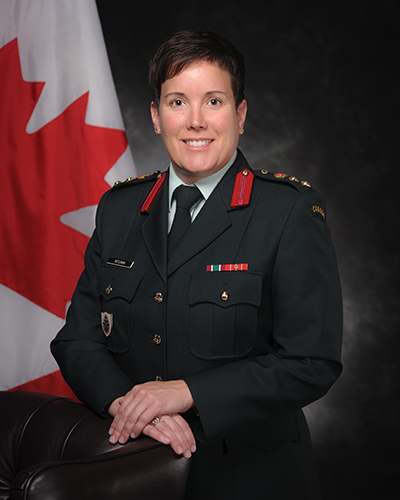 In 1994, after completing a three year Business Administration Program at St Lawrence College in Kingtson, Colonel Heilman enrolled in the Canadian Armed Forces. She attended the Royal Military College of Canada (RMC) Kingston, graduating in 1997 with a Bachelor of Arts. Upon completion of Logistics Officer training in Borden, Colonel Heilman served in 2 Svc Bn, 2 GS Bn, 2 Fd Amb, 1 Svc Bn, and finally 2 Svc Bn as the Commanding Officer in 2015.
Colonel Heilman deployed to Kabul, Afghanistan as part of Operation ATHENA in 2003/2004. As a staff officer, Colonel Heilman has been employed with the Canadian Army HQ as G4 Ops 3, G4 Systems and DAS 4, with CEFCOM as J4 Plans, with ADM(Mat) as COS DGMSSC, and with the Strategic Joint Staff as Director Sustainment Strategy and Readiness
A graduate of the Canadian Forces College (Joint Command and Staff Programme, 2011) and the National Defense University's Eisenhower School (National Security Programme, 2018), Colonel Heilman holds a Master of Defence Studies and a Master of Science (National Resource Strategy). She is currently serving as the Director of Cadets at the Royal Military College in Kingston.