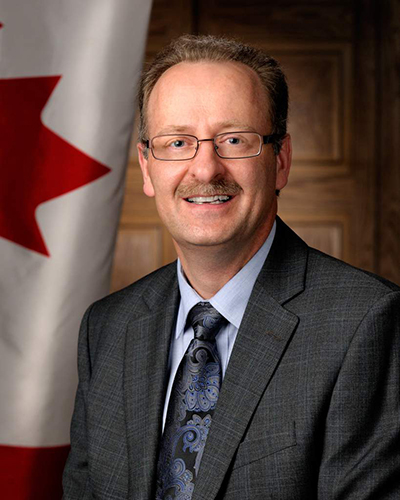 Principal
Royal Military College of Canada
PO Box 17000, Station Forces
Kingston, Ontario CANADA
K7K 7B4
Fax: (613) 541-6039
Office: (613) 541-6000 ext. 3880 
Biography
Dr. Harry James Kowal is a retired Brigadier-General, who served over 33 years in the Canadian Armed Forces. Appointed by the Minister of National Defence on 1 August 2013, Dr. Kowal is the 13th Principal of the Royal Military College of Canada (RMC). His Governor-in-Council appointment also carries with it the responsibilities of special advisor to the Minister of National Defence, who is also the RMC Chancellor.
An ex-cadet with College Number 14458, Dr. Kowal graduated from RMC in 1984 with a Bachelor's Degree in Mechanical Engineering. Dr. Kowal also holds a Master's Degree (2002) in Defence Studies from RMC, a Master's Degree (1990) and Doctorate (1997) in Aerospace Engineering from the University of Tennessee Space Institute (UTSI) as well as a Master's Degree (2010) in Arts (Strategic Studies) from Deakin University in Australia. Dr. Kowal is a 2002 graduate of the Canadian Forces College, Command and Staff Course 28, and a 2010 graduate of the Australian Centre for Defence and Strategic Studies (CDSS). He is a qualified Aerospace Engineer, a Licensed Professional Engineer, a Qualified Flight Test Engineer and the recipient of the Air Command Commendation in recognition of his leadership and contribution to Aircraft Technician Transformation.
During his career, Dr. Kowal has served in a variety of leadership and staff appointments in areas including life cycle material management, flight testing, academia, aircraft maintenance, aerospace doctrine and human resources. He has had numerous opportunities to represent Canada at home and abroad, having presented and published nationally and internationally on a variety of topics, such as Canadian flight testing during the 2nd Annual Integrated Test and Evaluation Conference in the United States (2011) and again in Israel at the Israeli Flight Test Centre (2012). He also had the privilege of presenting papers at the National Institute for Defense Studies in Tokyo, Japan (2010) and the Interservice/Industry Training, Simulation, and Education Conference in Orlando, Florida (2005), to name a few.
In 1994, Dr. Kowal became a lecturer then Assistant Professor in the Mechanical Engineering Department at the College, duties he performed in addition to being a Squadron and then Division Commander. He has also held three command appointments. From 2002-2005, he served as Commandant of the Canadian Forces School of Aerospace Technology and Engineering (CFSATE) in Borden. In 2005, he held the appointment of Commander 16 Wing in Borden for two years and, in 2011, he was appointment Commanding Officer of the Aerospace Engineering Test Establishment (AETE) in Cold Lake, proudly becoming the first Aerospace Engineer to command Canada's Flight Test Centre. Commissioned as a General Officer in 2012, Dr. Kowal served at the executive level of the Canadian Armed Forces as the Director General Military Careers at National Defence Headquarters in Ottawa, prior to his appointment as Principal of the College.