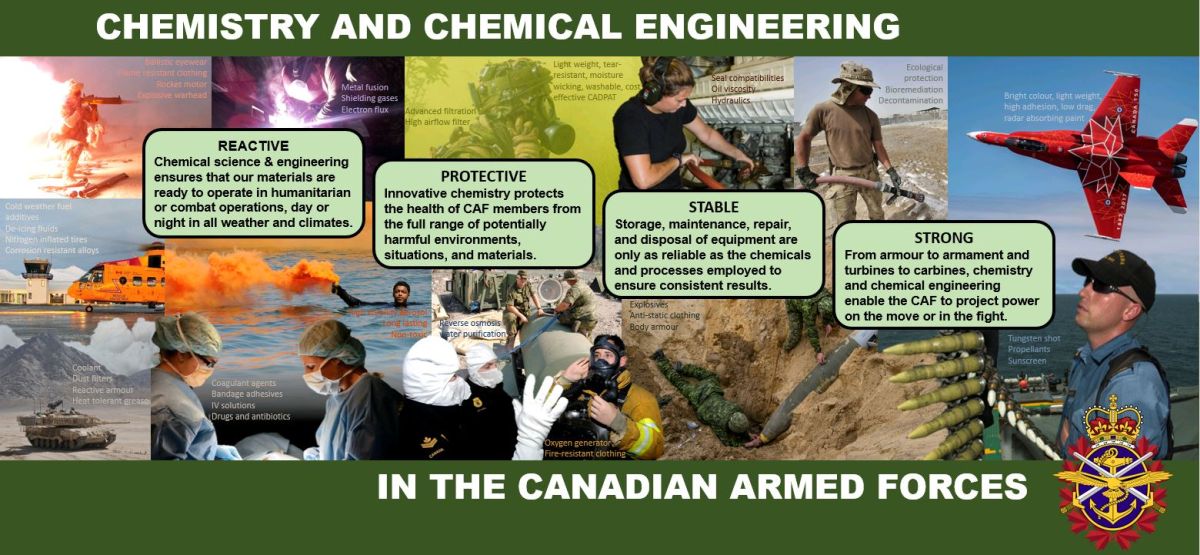 Chemistry and Chemical Engineering in the Canadian Armed Forces

Reactive:

Chemical science and engineering ensures that our materials are ready to operate in humanitarian or combat operations, day or night in all weather and clmates.

Protective:

Innovative chemistry protects the health of CAF members from the full range of potentially harmful environments, situations, and materials.

Stable:

Storage, maintenance, repair and disposal of equipment are only as reliable as the chemicals and processes employed toendure consistent results.

Strong:

From armour to armament and turbines, chemistry and chemical engineering enable the CAF to project power on the move or in flight.
The primary mission of our the Department of Chemistry and Chemical Engineering at the Royal Military College is to provide fundamental and outstanding programmes for undergraduate and graduate students in support of the Canadian Armed Forces. The secondary mission is to carry out research in support of the CAF in collaboration with Defence Research Development Canada as part of the Defence Science and Technology Strategy.
Contact Us
Phone: (613) 541-6000 ext 6271
In Person: Sawyer Bldg R69, room 4517 
Head of Department: frank.zeman@rmc-cmr.ca
Admnistrative Support: krystal.adam@rmc-cmr.ca
Technical Support: kim.sampson@rmc-cmr.ca
Office Hours:
Monday to Friday
8:00 AM to Noon
1:00 to 4:30 PM
Department Mailing Address
Department of Chemistry and Chemical Engineering
Royal Military College
11 General Crerar Crescent
Kingston, Ontario
Canada, K7K 7B4