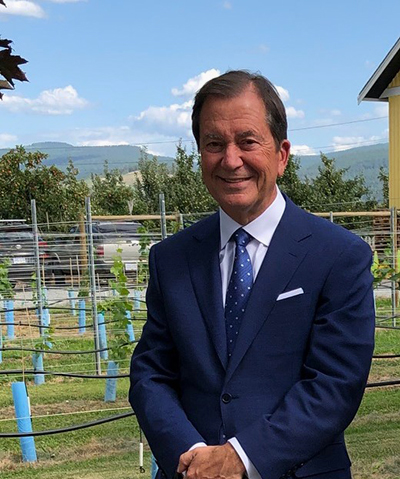 1951 –
"Bob" Banks grew up in Whitby, Ontario.  He was a good student, keenly interested in sports and displayed strong skills at writing and public speaking.  He also showed an intense interest in aviation, strongly influenced by an uncle who flew during World War II.  Wanting to fly as well, "Bob" entered the preparatory year at CMR in 1969 where he played varsity basketball.  Transferring to RMC in 1972, he displayed all-round abilities and was awarded the military proficiency badge in third year.  He graduated in 1974 with a bachelor's degree in Civil Engineering.
Dr. Banks earned his pilot wings in 1975. He started his flying career on the CT-133 Silver Star, followed by the CP-107 Argus and CP-140 Aurora.  In 1982, Dr. Banks was selected for the Military Medical Training Plan.  He graduated as a medical doctor from the University of Toronto in 1986 and after completing internship, was posted to CFB Moose Jaw as a medical officer, flight surgeon and, eventually, Base Surgeon.  He also re-qualified on the CT-114 Tutor, conducted the airsickness rehabilitation program and became the designated team doctor for the Snowbirds.  When flying, he occasionally experienced difficulty tolerating G-forces during aerobatics that followed zero-G (weightlessness) or negative-G (inverted) manoeuvres. Since lowered G-tolerance can lead to loss of consciousness in flight and, lacking any science that described the problem, "Bob" began doing the research.
From 1991 to 1993, Dr. Banks completed a two year residency at the US Naval Air Station Pensacola, Florida.  Although a student, he was given the opportunity to further his research.  Using a NASA centrifuge and human subjects, he repeatedly reproduced the flight conditions and associated human symptoms previously observed. He identified the physiological basis of the problem and defined both the threat to safety and need for prevention. He named the discovery the "push-pull effect" to describe the control stick input needed to cause it.  He published the first scientific paper describing this phenomenon.
The "push-pull effect" and the underlying physiological mechanisms have been repeatedly verified using animal and human studies, and mathematical modeling.  Research by others determined that the "push-pull effect" accounted for approximately 30% of reported in-flight G-induced loss of consciousness events and is a known cause of fatal crashes including that of a CF-188 Hornet.  It has been recognized as a potential threat during spaceflight re-entry, particularly sub-orbital commercial flights. Preventive measures to account for the "push-pull effect" have been developed, including US amusement ride safety standards.  In 1996, Dr. Banks was presented with the Arnold D. Tuttle Award by the Aerospace Medicine Association for the most significant contribution to Aerospace Medicine that year.  
Dr. Banks retired from the Canadian Armed Forces (CAF) in 1997 and joined Biodynamic Research Corporation (BRC) in San Antonio as a physician-engineer.  He filled successive roles as Consultant, Executive Vice-President and Board Director until his retirement in 2019.  In 2003, Dr. Banks was among a select group of senior flight surgeons invited to assist NASA in detailed investigations of the crash of the Space Shuttle Columbia. He assumed the leading role in analysing the injuries of the crew and was lead author of the final (closed) report. The historical and ground-breaking findings have influenced spacecraft safety designs and procedures. In 2009, he shared the NASA Group Achievement Award for outstanding completion of the Columbia survival investigation report. In 2010, Dr. Banks was presented the Colonel John Paul Stapp award by the Aerospace Medicine Association for his outstanding contributions to biomechanics and for work on the Columbia accident.
Dr. Banks is an accomplished author, having published over thirty papers and book chapters and has made or contributed to over 25 scientific presentations, many of which were published in the journal of Aerospace Medical Association. A peer-reviewer and former member of an editorial board, he is an elected Fellow of the Aerospace Medical Association.
Dr. Banks' contributions as an educator have resulted in notable recognitions; twice receiving the Naval Aerospace and Operational Medical Institute "Golden Apple" Award for outstanding lecturer as well as the Field Instructor of the Year and the Academic Instructor of the Year awards from the US Air Force School of Aerospace Medicine where he lectures as a Clinical Adjunct Professor.  He taught and mentored CAF flight surgeons at the School of Operational Medicine for over 25 years.
In the scientific realm, he has been recognized as an expert in diagnosis and treatment of airsickness, the physiological effects of high-agility flight, the human response to sustained and impact acceleration and the cause and mechanisms of traumatic injury. As an engineer, he has developed use of digital photogrammetry as an aid in the modeling of crash events.  His training and experience as an engineer, pilot and doctor have created a unique intellectual skill set for the investigation of major vehicle crashes.
Plaque Inscription:
Pilot, Physician, Engineer, Educator, Author