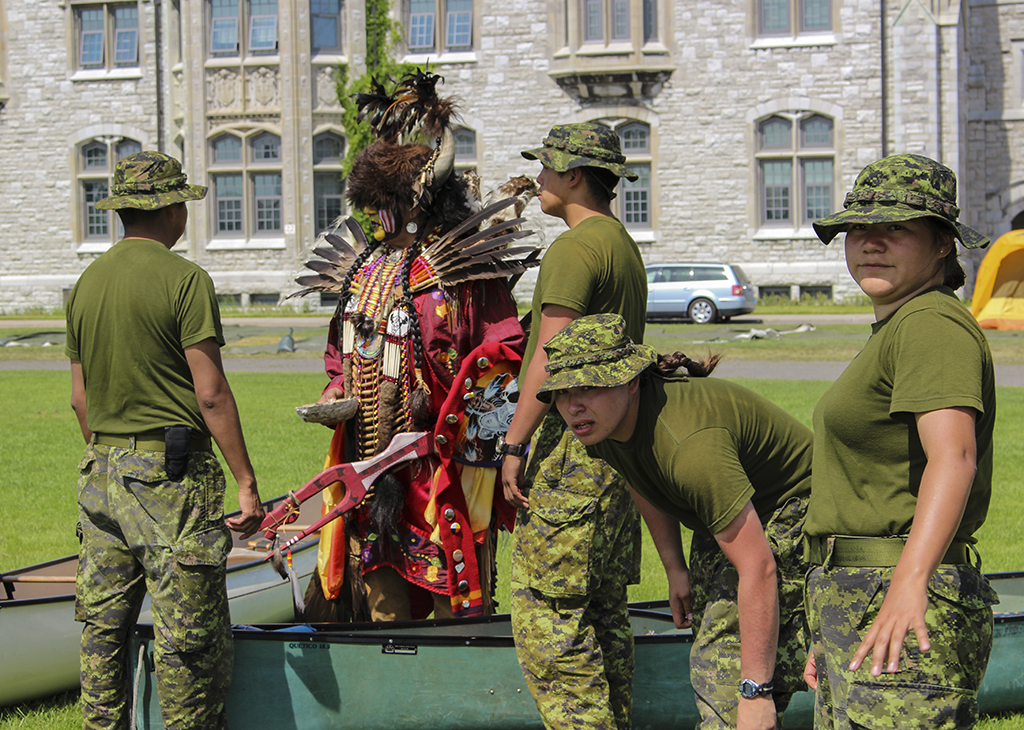 First Nations Elder, Bernard Nelson offers traditional aboriginal blessings on the ALOY cadets as they return from a cadet trip which saw them paddle more than 110 kilometers in a week.
 As the school year ends for students of the Royal Military College of Canada, the cadets in the Aboriginal Leadership Opportunity Year are preparing for their week long leadership trip. They have been refreshing their paddling and knot skills, as well as packing, in preparation for their seven day canoeing trip beginning Monday June 2 2014 where they will all be given opportunities to demonstrate their leadership in a field environment.
The ALOY cadets will be paddling up the Rideau Canal from the Smith Fall's Lock Station to Kingston. They will be traveling approximately 110 kilometres and passing through 9 lock stations. The route will also bring them through 3 large lakes; Colonel By Lake, Upper Rideau Lake and Big Rideau Lake. Depending on the weather, these lakes may cause delays and difficulties as they are known to be choppy and feature high winds. In addition to the beautiful scenery along the route, it also bares a lot of historical significance to Canada. 
To allow the cadets to demonstrate their leadership, they will be split into two sections with a cadet in charge of each one. Every day a new cadet will be in charge of the sections. These cadets in charge will be given orders and must use battle procedures to write out their own orders. They will then take complete control of their section and will be responsible for every detail; what and when they eat, delegating tasks, when to take breaks. The cadet in charge will also need to ensure that his or her section makes all the predetermined timings and checkpoints. The cadets will be assessed on their performance as this exercise is a leadership test.
Upon their return to campus, the Aboriginal Leadership Opportunity Year cadets will jump immediately into drill and parade practices in preparation for their graduation on Friday June 20th 2014.