Announcement of Honorary Degrees at RMC's 114th Convocation The Royal Military College of Canada is very proud to announce that Her Excellency the Right Honourable Julie Payette, Governor General and Commander-in-Chief of Canada and Mr. Charles Ian Mottershead, Business leader, philanthropist and former officer cadet, will each receive a Doctor of Laws honoris causa at our 114th Convocation at 1 p.m. on May 16, 2019.
Mr. Charles Ian Mottershead,
rmc, BA,
MBA (Queen's),

CFA,

Chevalier de l'Ordre du Merite Agricole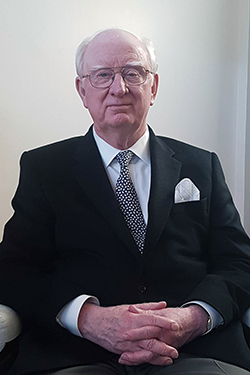 Doctor of Laws - honoris causa
Mr. Ian Mottershead was born January 13, 1941, in Rhyl, North Wales of English parents. The family emigrated to Canada in the fall of 1956 and settled in British Columbia. Mr. Mottershead attended Royal Roads Military College from 1958 to 1960, and then transferred to RMC in 1960. He graduated from RMC in 1962 with a BA in Economics and Political Science. After four years as an officer in the Royal Canadian Navy, he was accepted into the MBA programme at Queen's University, specializing in Finance. After graduation he became involved in the Canadian equities market based in Toronto. After great success in this endeavour, he later became a partner in the firm Phillips, Hager & North located in Vancouver. By the time Mr. Mottershead retired, his efforts and those of his partners had resulted in PH & N becoming the largest privately owned investment management firm in Canada with more than $45 billion in assets under management, and 270 employees. PH & N is now a unit within the Royal Bank of Canada, and is managing over $100 billion in assets.
After retiring from PH&N in 2003, Mr. Mottershead joined the Board of a Calgary-based natural gas exploration company called Peyto and served as its Chairman for the next six years. Peyto is an unusual company, the lowest cost gas producer in Canada and perhaps North America. Peyto has grown its production to around 100,000 barrels of oil equivalent per day entirely via the drill bit. This makes Peyto the fifth largest natural gas producer in Canada. After just 20 years in existence, Peyto has already paid out $2.4 billion dollars in dividends and distributions to shareholders.
Not content to rest on his financial accomplishments, when Mr. Mottershead turned 70 he shifted focus to The Charros Foundation, later The Mottershead Foundation, which his wife, Rosemary, and he had established 17 years prior. Apart from support to Royal Roads University and the RMC Foundation, the Mottershead Foundation's important projects are the "Take a Hike – Youth at Risk Foundation," "Pacific Parkinson's Research Institute," and the "Lions Gate Hospital Foundation,"  who recently received $5 million to assist in financing construction of a new facility. On top of these, many other organizations receive support from The Mottershead Foundation.
Of particular note is the ongoing financial help that The Mottershead Foundation provides the RMC Battlefield tour. Over the last five years they have been the major donor supporting the continuance of this RMC generated educational activity. Without their support, this cross-college battlefield tour of Belgium and France, including students from every discipline, could not have continued and become one of the premier events held by RMC. This activity which has been described as "transformational" in numerous surveys of its participants emphasizes ideas of military leadership and the principles that underpin ideas of "Truth," "Duty" and "Valour." In order to ensure that this activity, so supportive of the values espoused by RMC, continues, The Mottershead Foundation created a $1.65 million endowment in the RMC Foundation to provide financial certainty for future tours.
Business leader, philanthropist and former cadet, Ian Mottershead is a salient example of a RMC graduate who, living the ideals he absorbed at RMC, has made a positive difference in the lives of many and he personifies selfless service to both his alma mater and the people of Canada. His accomplishments in the business world have greatly assisted others. In the words of one recipient of support from The Mottershead Foundation, "Most of us agree that it only takes a few dedicated individuals to make a difference. Too often, we don't focus the spotlight on those individuals." Ian Mottershead is that individual and he is certainly deserving of an honorary degree for his Public Service.
Her Excellency the Right Honourable Julie Payette,
C.C., C.M.M., C.O.M., C.Q., C.D., Governor General and
Commander-in-Chief

of Canada
Doctor of Laws - honoris causa
Before becoming Governor General, Julie Payette was an astronaut, engineer, scientific broadcaster and corporate director.
From 1992 to 2013, Ms. Payette worked as an astronaut and flew two missions in space. She also served many years as CAPCOM (Capsule Communicator) at NASA's Mission Control Center in Houston, Texas, and was Chief Astronaut for the Canadian Space Agency.
She is well respected for her work in developing policies to promote science and technology. From 2011 to 2013, she worked as a scholar at the Woodrow Wilson International Center for Scholars in Washington, D.C., and was appointed scientific authority for Quebec in the United States. Between July 2013 and October 2016, she served as Chief Operating Officer of the Montréal Science Centre.
Ms. Payette is active in multiple facets of the community. She has produced several scientific outreach short programs on Radio-Canada and is a member of McGill University's Faculty of Engineering Advisory Board. She has served on the boards of the Montréal Science Centre Foundation, Robotique FIRST Québec, Drug Free Kids Canada, and the Montreal Bach Festival. She has long served on the board of Own The Podium, a granting organization dedicated to high performance sport in Canada, and was recently appointed to the International Olympic Committee Women in Sport Commission. She has served as a director of Développement Aéroport Saint-Hubert de Longueuil and of the National Bank of Canada.
Ms. Payette is a member of the Ordre des ingénieurs du Québec and a fellow of the International Academy of Astronautics. She obtained an International Baccalaureate from the United World College of the Atlantic in the United Kingdom, a Bachelor of Electrical Engineering from McGill University and a Master of Applied Science in Computer Engineering from the University of Toronto. In addition, Ms. Payette can converse in six languages, holds a commercial pilot license and is an administratrice de sociétés certifiée (ASC is equivalent to the Institute of Corporate Directors, Director [ICD.D] designation).
The recipient of many distinctions and 28 honorary doctorates, Ms. Payette was first invested into the Order of Canada in 2010, and is a Knight of the Ordre national du Québec.