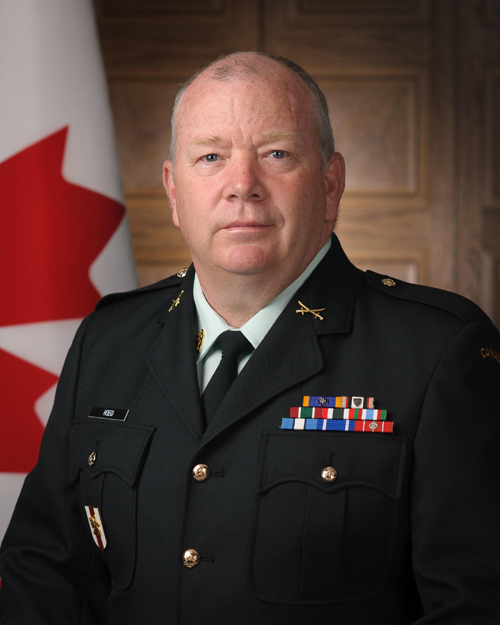 CWO Hoegi joined the CF as a Field Artilleryman on 19 April 1984, after attending recruit training at CFRC Cornwallis and basic Artillery training at the Royal Canadian Artillery Battle School in Shilo MB he was posted to the 3rd Regiment Royal Canadian Horse Artillery in the fall of 1984 for his first regimental duties.
After a short time in Shilo, CWO Hoegi was posted to 1 RCHA, Lahr Germany in July of 1985. Over the next five years CWO Hoegi was employed as a detachment member, command post technician, observation post detachment commander, and completed the French Army Commando Training at le Centre d'Entrainement Commando No. 4 in Breisach France.
In August of 1990 CWO Hoegi was posted to 20 Independent Field Battery RCA, Lethbridge AB, and was promoted to Sergeant July 1991, in July of 1992 he returned to 1 RCHA, now in Shilo. CWO Hoegi deployed on Operation SNOWGOOSE 58, Cyprus, in the same year. After being employed in several positions throughout the Regiment, CWO Hoegi was promoted to Warrant Officer in 1997 and posted to 2 RCHA, Petawawa.
His time with 2 RCHA included the Assistant Instructor of Gunnery Course at the Artillery School, a tour with the NATO Stabilization Force Bosnia as a Troop Sergeant Major, SOLT in 2002 and a tour to Afghanistan as the Canadian Task Force Operations Warrant Officer. On return from Afghanistan in February 2006, CWO Hoegi was promoted to MWO and appointed as Battery Sergeant Major of Headquarters and Services Battery. In 2009 CWO Hoegi was posted to ASU Petawawa as the Range Control Sergeant Major.
In June of 2010 CWO Hoegi was promoted to his current rank and selected to attend the United States Army Sergeants Major Course in Fort Bliss Texas. Upon Graduation CWO Hoegi was retained as an instructor at the US Army Sergeants Major Academy until July 2012 when he was posted to Royal Military College of Canada to attend the Non Commissioned Member Executive Professional Development Program graduating with a certificate in General Military Studies. In May of 2013 CWO Hoegi was appointed as the 25th RSM of 2 RCHA and following one year of SOLT he was appointed as the 35th RMC CWO on 17 June 2016.