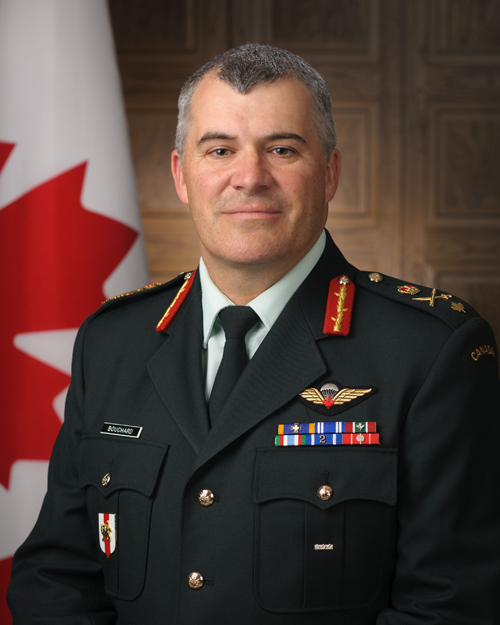 Brigadier-General S. Bouchard, OMM, MSM, CD,
rmc
Commandant & Vice-Chancellor
Royal Military College of Canada
Born in Lac St-Jean, Brigadier-General Sébastien Bouchard enrolled in the Canadian Armed Forces in 1988.  He began his studies at the Royal Military College of Saint-Jean, and completed them at the Royal Military College of Canada where he earned a Bachelor's degree in Mechanical Engineering.  He also graduated from the Canadian Forces College – National Security Program and holds a Master's degree in Defense Studies.
He was deployed to Bosnia for OP ALLIANCE from 1996 to 1997 and on OP PALLADIUM from 1999 to 2000.  In addition, in 2009, he was appointed commander of the National Support Element (NSE) for OP ATHENA, Afghanistan, where he commanded approximately 800 members from November 2010 to July 2011.  He commanded his unit brilliantly throughout the deployment and was awarded the Meritorious Service Medal for his remarkable leadership and extraordinary dedication as commander of the NSE.
He then held several positions in Ottawa, starting with Director Land Equipment Program Staff (DLEPS) at the Director General Land Equipment Program Management (DGLEPM) where he coordinated various equipment management teams to support OP ATHENA.  Subsequently, he held the position of Team Leader of Materiel Management at the Canadian Special Operations Forces Command (CANSOFCOM).  He returned to DGLEPM as project manager for the modernization of small arms, a major project costing $500 million.  He was afterward appointed Director Armament Sustainment Program Management (DASPM) where he managed several programs at the strategic level.  At the same time, he became Director of the Royal Canadian Electrical and Mechanical Engineering Corps (DRCEME).  His enthusiasm and creativity culminated in the development of the new RCEME museum that was finished in the spring of 2016.
In July 2015, Brigadier-General Bouchard was appointed Commanding Officer of the Second Canadian Division Support Group headquartered in Montreal.  He was the head of 2,000 military and civilian employees who support 141 units in 36 municipalities and 18,000 National Defence personnel located in the province of Quebec.  His mandate for this position was to generate, employ and support joint forces in operations in Canada and abroad as well as providing institutional support to units under his purview.  In December 2016, he was awarded the Order of Military Merit Medal in recognition of his outstanding meritorious service in the performance of his duties.
Promoted to his current rank on 30 June 2017, Brigadier-General Bouchard is appointed Commandant and Vice-Chancellor of the Royal Military College of Canada on 14 July 2017.